Alma Tischler Wood
Being There
Being There
In the shuttered light of a loft in Picardy, "Être-là" (Being There) opens to the viewer like the first act of a theatre piece. Alma Tischler Wood's installation – a witty amalgam of shapes, colours, and lights – occupies a dauntingly large floor area. At first sight, we see a constellation of inflatable globes and bric-a-brac, cradled by a ramshackle latticework of diagonal strings between floor and ceiling. One's eye wanders up and down the patterns, looking for structure. The work becomes a long buffet table, crowded with wayward delights. Clusters of tiny objects in tawdry colours merge into shoals of things that are black and white. The small collections are interspersed with weightier globes and boxes, clad in newspapers. Old headlines contain signs revealing their directional momentum.
For all its apparent whimsy, Tischler Wood's work is precise enough to permit patterns to arrive, settle and develop at each viewing. Like some types of free-form jazz, its rhyme is more apparent than its metre. Familiarity brings a broader perspective that transforms the string geometries into a sweeping recessional that gives meaning within the context of its outer landscape of wooden beams and loft walls. Surprisingly, the breadth of open space is diminished by string. Punctuated by occasional knots and tiny ornaments, this three-dimensional web lays open as much as it encloses. The boundaries it makes are innocuous and easy on the eye, enabling one's vision to remain centred on the structure without getting distracted by the beauty of the windows or walls.
After a while, small jokes, puns and riddles emerge from the collection, as if from a mist. The simplicity of the game creates different frames of reference that imply imaginary quotation marks. A pair of rocks hangs in the air, held motionless by two lengths of twine. Flat, rectangular paintings of two-dimensional spheres lie against the bright three-dimensional spheres; plastic drinking bottles stand shoulder to shoulder, each displaying a vividly dyed fluid. According to the artist these are 'water colours'. Textual details snipped from cigarette packages and newspaper headlines provide a semblance of cohesion, based on their colour, shape, or their wordplay.
In time, one is permitted the narrative between the unnaturally bright globes and a few unadorned objects. What the artist affectionately calls 'worlds' are in contrast with the weightier, text-covered boxes. The 'worlds' are sprightly and luminous almost to the point of toxicity. Most are inflatables, embellished with polka-dots or bright orange. Some of the 'worlds' are ironic, as in the papier-mâché globe consisting entirely of the city of Paris, or bandaged meticulously in 'Handle With Care' stickers. The pathways between the 'natural' and the 'poisonous' makes for an edgy liaison, if not a tempestuous marriage. At times, Tischler Wood channels the Dadaist spirit. Without invoking any physical movement, her installation seems to rehearse the actions of going, resting, or acting, but within tenuous boundaries. Its playful resistance to a single interpretation is one of its many delights. Read it between the lines, over the lines, through the lines, and despite the lines. "Being There" is everywhere.
---
On arriving from London, in the early days of July, what first struck me about Sacy-le Petit was its seclusion. The air was soft and sweet, and the birdsong comforting. However, the beautiful surroundings were overwhelming. Sacy-le-Petit introduced me to a new sensation of solitude. On my first day, cycling through the panoramic countryside, I became lost for hours. This experience, as well as that of being here in the chateau, has changed my sense of time and space. For me, it means much more than simply "Being Here."
'Being There' is the title of an American film about a gardener (Peter Sellers) who remains trapped in the estate of his guardian until his guardian dies and he makes the decision to leave, a fiction that reflects my own decision to leave London. It is also the term of a study of 'Being' by the German philosopher Martin Heidegger. In his fundamental treatise, 'Being and Time', he attempts to access Being (Sein) through an investigation into the experience of human existence, in respect of its temporal and historical character, Being There (Dasein). With my installation, a large and intricate piece set in the loft of the barn, I have constructed a representation of my personal experience of Heidegger's treatise. Because my medium is visual, the components of this 'site specific' piece reflect my wild and unpredictable first experience of "Being-There" at 1 rue Verte.
My aim was to make a wondrous microcosm, using both local and non-local objets trouvés, such as tiny lights, paintings, pieces of nature, as well as materials left behind by previous residency artists. All the items are sited close together and some are embellished with paint and English/French newspapers. I have also included spheres of different sizes, images representative of infinity, which have appeared in my work since I began, and which I call 'worlds.' To make a connection with my other work, I have added a piece from an exhibition held last year - a golden birdhouse that toured trees in London, Canada, and Berlin.
---
Previous Work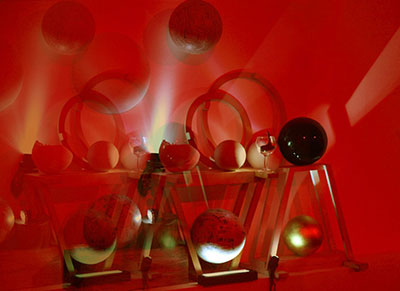 Alma Tischler Wood
Lives and works in London. E-mail:
almatisch@gmail.com
Web:
southlondonmuseum.com
Solo Exhibitions
2014
Being There
, Cháteau de Sacy, Picardy, France
2012
Happy Days
(live performance with sound), Bangkok Art Center (BACC), Thailand
2011
Lost in Translation
, first solo exhibition, Doosung, Paper Gallery, Seoul, South Korea
2009
SPIKE
homage to Spike Milligan, Lewisham Library, London, UK
New Works with Lea Oetken
, Anixis Gallery, Switzerland
2008
Gold X Change
(performance), Deptford Arms, part of Deptford X, London, UK
Happy Days
with Afra Dopfer, Bildersaal, Artothek, Munich, Germany
2007
Tischler and Tilman
, Gallery Sonja Roesch, Houston, USA
At Work
(mixed media installation), The Arthouse, London, UK
2006
New Work
, Renewal Art Space, London, UK
2005
Orange
, Sonja Roesch Gallery, Houston, USA Galerie de Rijk, Den Haag, Netherlands
2004
Fabrications
(painting and video), Lang Gallery, London, UK
2003
Who is afraid of Red, Yellow and Blue?
(street performance / video screening), Liverpool & Paris
2001
Happy Days
, Gallery Sonja Roesch, Houston, USA
2000
Rose Garden
(video installation in empty burial vault), St. Nicholas Church, Deptford, London, UK
1999
Sky Blue
(floor painting covering 370 m
2
), Deptford X, London
1998
Spaces
, Gallery Sonja Roesch, Houston, USA
1995
Parallaxe
, Gallery Sonja Roesch, Karlsruhe, Germany
1994
Umbra
, FOE Gallery, Munich, Germany
1992
The Nature of Things
, Small Gallery, Budapest, Hungary
1988
New Work
, Vera Engelhorn Gallery, New York, USA
1987
First solo exhibition, supported by the Munich Arts Council, Atelierhaus, Munich, Germany
Selected Group Exhibitions
2013
Wild New Territories
, Botanical Museum and in Botanical Garden, Dahlem, Berlin, Germany
2012
Wild New Territories
, Foundling Museum, Brunswick Square, London, UK
2010
UND 6 – Intercontinental
, Schwartz Gallery Project Space, London, UK
2008
¿de qué equipo soi?
with Martino Margheri, Man Museum, Valparaiso, Chile
The Immaculate Conception
, Tate Liverpool (part of the 5th floor project), Liverpool, UK
2006
Op.3
, commissioned by Bluecoat Gallery, Liverpool, UK
Breeding
, civilisation and its discontent, Cornerhouse, Manchester, UK
Tuning in op.2
, The Venice Agendas, 51th Venice Bienniale, Italy
2003
Supermen
, Interventions, commissioned by John Hansard Gallery, Southampton, UK
2001
Trajectories
, Telemar Museo, Rio de Janeiro, Brazil
2000
Other Modernities
, The London Institute Gallery, London, UK
1999
Duty – Free
, Gasworks, London, UK
Poker
(performance/installation), 48th Venice Bienniale, Italy
1997
Gold -X- Change
, BM Art Centre, 5th Istanbul Bienniale (Fringe), Turkey
Background
1995-96
Founder Member of the artists' collective foreign investment
1990-91
Central Text in Philosophy, Goldsmiths University of London
1988-90
Studios in Munich and London, decision to live/work in London
1980-86
Study of Fine Art at the Academy of Fine Art, Munich, MA Diploma (painting)
Awards, Stipends and Grants
2014
Artist's Residency, Château de Sacy, Picardy, France
2012/13
Research funding to develop
Tree with a View
(permanent viewing sculpture), Prosper Together, Canterbury, Kent, UK
2010
Winner of the
End of Trail Marker
(Public Art - Commission), North Downs Way, Dover, UK
2008
Winner of the Macdonald Egan Award for
Gold for Deptford
, Deptford X, London, UK
2007
Space for 10
, 3 month Residency (stipend), CAC, Manchester, UK
2006
Wimbledon School of Art, Travel Grant, The Venice Oratory for 51th Venice Biennale
2001
Trajectories
British Council Travel Grant, Rio de Janeiro, Brazil
2000
Artlink 2000 (stipend), Goethe - Institute, Colombo, Sri Lanka
1998
Laughing Stock Exchange
, Arts 4 All Award, Arts Council of England, Liverpool, UK
1997
Gold X Change
, British Council Travel Grant for Turkey (Fringe Istanbul Biennial)
1990
Goethe - Institute, Munich (stipend): exhibition and painting symposium, Calcutta, India
1989
Annual Award for Painting, City of Munich, Germany
1987
Prinzregent Luitpold Foundation (stipend), Munich, Germany
1986
Award for Painting
Vera Ikon
, Diazoesan Museum, Freising, Germany
Bibliography
2010
Contemporary Art Auction
(catalogue) - Sally Lay; CAC Manchester, UK
2008
Hijack Reality: DeptfordX
- Matthew Collings and Bob & Roberta Smith; Deptford X, pp. 138-139, ISBN 978-0-9547071-2-5
2007
Space for 10
- Rebecca Fortnum (essay), Katie Woods (foreword); Manchester, UK, pp. 64-66, ISBN 475-0-3687456 -1-0 2007
2005
ART ROTTERDAM 05
- Eugene de Rijk; Galerie and Kunsthandel de Rijk, No.31
2004
Art in the Hinge
- Dr. Barbara Rollmann; EPO (European Patent Office) on the occasion of presenting their collection, pp. 96–99, ISBN 3-89605-062-1
2003
Ornament
- Elisabeth Hartung; Luitpold Lounge Magazine, issue:1, pp. 46–50
2002
ASIDE
- essays by Guy Brett, David Medalla and Claudia Wegener; Southlondonmuseum.com, ISBN 0-9518551-3-1
1995
Travelling Light
- essays by Robert Schiess, Paul Hedge, translation: Lea Oetken; pp. 16–17, Swiss – British Exchange exhibition catalogue with Hales Gallery, London & Ausstellungsraum Klingental, Basel
Die ersten Jahre der Professionalitaet IX
(The First Professional Years IX); pp. 46-47, Galerie der Kuenstler
1989
Foerderpreise 1989
(Annual Award for Painting); Monography published by the Arts Council, Munich
1988
Dr. Helmut Friedel, Gabriele Coeppan and John Wood (essays); Vera Engelhorn Gallery Catalogue (German/English)