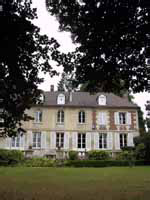 Ateliers d'artistes de Sacy
The Association Ateliers d'artistes de Sacy is a non-profit organisation ("association loi 1901") formed in 1996, numbering around 50 French and British members who meet three or four times a year for events at the château. The Association includes amongst its members many artists, writers and journalists.
The long-term aim of the Association is to welcome artists of all nationalities and to provide premises (which have been) restored and renovated using sustainable energies. Additionally we aim to enrich rural life by bringing together local people and the artist here at the château.
We hope to attract members of the public of all ages from both home and abroad to see the château, its grounds and its exhibitions. The Association also aims to foster ties with local people and organisations, such as the local village primary school.
In order to achieve its aims, the Association continually seeks financial assistance from local, national and British funding bodies, our annual budget being roughly 13,000€.
The Association has plans ("Ateliers Hélène Demoriane"), dependent on obtaining the necessary funding, to extend the château's activities throughout the year by renovating and equipping a number of out-buildings in order to provide independent living and working space for our artists. We have already completed work on the renovation of the roofs and façades of the courtyard buildings, destined to become artists' residences. This was achieved with the assistance of Monuments Historiques, la Fondation du Patrimoine and a bank loan. However, additional funding is required for us to achieve our aims and fully develop the artists' space.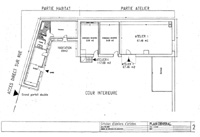 Click on the image alongside for an architect's plan of the projected artists' residences and workspace.
A selection committee meets each year to choose from the many applications for residencies that we receive.
Office-holders:
President: Hermine Williams
Vice-President: Ron Suffield
Treasurer: Laura Davison
Becoming a Member / Making a Donation:
Annual membership of the Association costs 17.50€ / £12 sterling or 27.50€ / £25 sterling for 2 people (Renewal: 10€ / £7.50 sterling or 15€ / £10for 2).
Life membership costs 75€ / £50 sterling.
To join or to make a donation, please send your details (name, address, e-mail address), and a cheque made out in Euros or Sterling to Ateliers d'artistes de Sacy, to:
Ateliers d'artistes de Sacy
Château de Sacy
1 rue Verte
60190 Sacy-le-Petit
France
Alternatively you can make donations or deposit your membership fees directly to the Association's bank (if doing so, please also notify us of your address details so that we can thank you).
In France (Euros) - La Poste (CCP Lille) - CCP N° 16 434 90 X 026
In the U.K. (Sterling) - HSBC (Sort Code 40-04-09) - A/C N° 71319965
Note that in France, Ateliers d'artistes de Sacy has been granted the label of "Fondation du Patrimoine", allowing a tax reduction of 50% for donations received from French residents, up to a limit of 10% of the Association's revenue.
Funding received
1996 - British Council
1997 - British Council, Direction Régionale des Affaires Culturelles de Picardie (DRAC)
1998 - British Council; DRAC
1999 - British Council; DRAC
2000 - British Council; Conseil Général de l'Oise; Conseil Régional de Picardie; DRAC
2001 - British Council; Conseil Régional de Picardie; DRAC
2002 - British Council; Conseil Général de l'Oise; Conseil Régional de Picardie; DRAC
2003 - Conseil Général de l'Oise; Conseil Régional de Picardie; Essex County Council; Writtle College
2004 - British Council; Conseil Général de l'Oise; Conseil Régional de Picardie; Essex County Council; Writtle College
2005 - British Council; Conseil Général de l'Oise; Conseil Régional de Picardie; DRAC; Essex County Council; Writtle College
2006 - Conseil Général de l'Oise; Conseil Régional de Picardie; DRAC; Essex County Council; Writtle College
2007 - Conseil Général de l'Oise; Conseil Régional de Picardie; Essex County Council; Sacy-le-Petit Village
2008 - Conseil Général de l'Oise; Conseil Régional de Picardie; Sacy-le-Petit Village
2009 - Arts Council of Great Britain; British Council; Conseil Général de l'Oise; Conseil Régional de Picardie; DRAC; Sacy-le-Petit Village
2010 - Arts Council of Great Britain; British Council; Conseil Général de l'Oise; Conseil Régional de Picardie; Sacy-le-Petit Village
2011 - Conseil Général de l'Oise; Conseil Régional de Picardie; DRAC; Sacy-le-Petit Village
2012 - Conseil Général de l'Oise; Conseil Régional de Picardie; Sacy-le-Petit Village
2013 - Conseil Général de l'Oise; Conseil Régional de Picardie; Sacy-le-Petit Village
2014 - Conseil Général de l'Oise; Conseil Régional de Picardie; Sacy-le-Petit Village
2015 - Conseil Général de l'Oise; Conseil Régional de Picardie; University of Central Lancashire, Sacy-le-Petit Village
2016 - a-n; Conseil Général de l'Oise; Direction Régionale des Affaires Culturelles Hauts de France (DRAC); Région Hauts-de-France, Sacy-le-Petit Village
2017 - Conseil Départmental de l'Oise; Région Hauts-de-France; Sacy-le-Petit Village
2018 - Conseil Départmental de l'Oise; Région Hauts-de-France; Sacy-le-Petit Village
2019 - Région Hauts-de-France; Sacy-le-Petit Village
2020 - Arts Council of Great Britain; Conseil Départmental de l'Oise; Région Hauts-de-France; Sacy-le-Petit Village
2021 - Arts Council of Great Britain; Conseil Départmental de l'Oise; Région Hauts-de-France; Sacy-le-Petit Village