Anne Bean
Airfield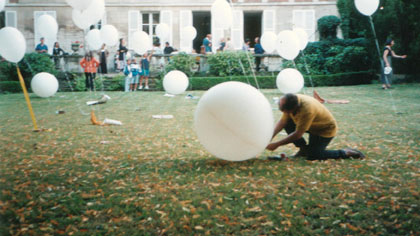 Previous Work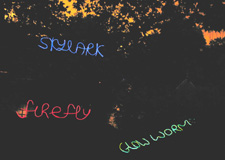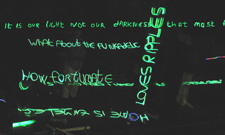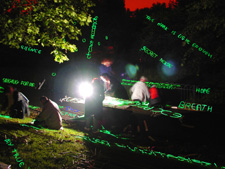 Anne Bean
E-mail
annebean@art2architecture.co.uk
Born: Livingstone, Zambia, 1950. Studied art at the University of Cape Town and Reading University, England, between 1968 and 1973. Anne's first public performance was a collaborative event in Piazza Del Duomo, Florence in 1970 and since then, apart from many solo works, she has initiated and participated in numerous collaborative projects, as well as organising many clubs and travelling through Britain, Europe and America and in Mexico and Japan. Her work, solo and collaborative, over the last thirty years has attracted considerable media coverage - television, radio and international press. She teaches regularly, particularly at Middlesex University. "
Anne Bean emits an electric character full of 'spirit' and 'energy'; her performances constitute a sensational amalgam of drawing, painting, sculpture and music
" - D'Ars Periodico D'Arte Contemparaneo
Latest work
2006
Drawing work is included in a Hayward Gallery touring show in several British Museums and Art Galleries throughout 2006. She also had a performance included in How to Improve the World, 60 years of British Art, Oct 2006 at the Hayward Gallery. Her work currently is being shown at the INPORT ˆ International Video-Performance Art Festival. Talinn, Estonia.
2003
Falling in Love with a Chair
- performance / installation for National Review of Live Art, Glasgow Artsadmin lecture / workshop for performance course.
2002
Many Hands
- whole night audience-included event for The London International Festival of Theatre on midsummer's night.
Spirit of Prague
- launch event for the Delegation of Prague to the European Union.
A short history of performance
- event for Whitechapel Art Gallery, London re-visualising a collaborative performance of Bernstein's from 1972.
2001
Rammattutti
- Monty Project, Antwerp - working with Belgium artists.
As dark as Light
- Bath international Music festival - a light piece with Orlando Gough's music.
Virginia Woolf's Daughter
- initial filming for a multi-screen video on entropy and regeneration.
Moving shadows
- intensive workshops with students to create performances for the Brighton Festival.
2000
Artsadmin research award.
Radiant fields
- a three-screen video piece presented at Matt's Gallery London funded by the ICA/ Toshiba Art & Innovation Commission.
Seaclipse
- a video involving 30 participants of a sea voyage to witness the total eclipse playing in London on the anniversary of the eclipse. A Millennium funded project for the Royal Society (science commission).
Ark
- a show at the Café Gallery, London in which artists work with different notions of animals.
Sqallp
- a group of performance-based artists working in Brighton for one week. Livingstone Festival, Zambia - 2 performances arising from workshops with local people.
Charge of the light Brigade
, West Park, Wolverhampton - collaboration with several artists working on 30 light-based installations.
Theatre of Memory
- a 24-hour piece about myth and memory with a group of artists in London.