Call for Candidates
Please note that due to the current pandemic, the next residencies for which we will be inviting submissions are for the summer of 2024. The details below will be updated once submissions are reopened.
Franco/British Artist Residency - Summer 2020
We are presently inviting submissions from British artists wishing to spend a month at Sacy in the summer of 2020. The work must be site-specific and transcend language barriers. We offer free accommodation and work space, along with an exhibition and catalogue at the end of the season and a grant of 1000 €. A minimum of 5 years of professional art experience is required. Click here for an application form.
Closing date: 15 November 2019
---
Another residency might also be of interest to you: arteppes, the contemporary arts space in Annecy (Haute Savoie).
---
Ateliers d'artistes de Sacy is assisted by: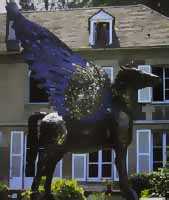 "Pegasus" - Andrew Logan