Call for Candidates
Franco/British Artist Residency - Summer 2019
We are presently inviting submissions from British artists wishing to spend a month at Sacy in the summer of 2019. The work must be site-specific and transcend language barriers. We offer free accommodation and work space, along with an exhibition and catalogue at the end of the season and a grant of 1000 €. A minimum of 5 years of professional art experience is required. Click here for an application form.
Closing date: 15 November 2018
---
Another residency might also be of interest to you: arteppes, the contemporary arts space in Annecy (Haute Savoie).
---
Ateliers d'artistes de Sacy is assisted by: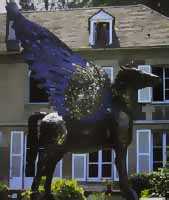 "Pegasus" - Andrew Logan