Chloe Steele
Objects for future shapes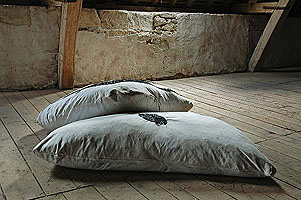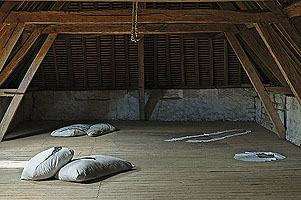 Where do they come from?
I suppose I am making them up. But it feels like they already exist and I am groping around for their shape in a sort of primordial muck.
"…a tactile sensation is a blind spot; we touch in silhouette."
Vladimir Nabakov, Ada or Ardor
A first lunch at Château de Sacy and Hermine cracks a boiled egg on her head; to show solidarity I do the same only to discover mine is not cooked.
I like the beginning stage. It's very free. It's the essence and then you start adding layers to give it…to give it…
Form?
Form, yes. And maybe some more essence
How's it going?
Good. Thanks.
Do you know what you're doing?
Sort of [No]
What kind of stuff do you do?
Drawings, paintings, sculptures, videos [I don't know].
I'll have to come and have a look.
Sure. Anytime [But I've done nothing and right now I'm not sure I'll do anything ever again]
---
There is something universally obnoxious about the pursuit of truth, let's be honest. Forget the platonic forms! Bring on the lies! Let's revel in the approximation. Let's watch the shadows dancing on the wall and not look back. There are no absolutes, except that one, and yes, that old paradox, but let's draw the line somewhere, even if it's just the outline.
Hang the ideal! What's the use of squinting in vain. Think of the freedom of the illusion – those vague shapes and their wandering edges. What's that nebulous shape you've been wrestling with all day? A stone, a bush, a pair of damn scissors! Is that it? After all that. Well that's it then!
Isn't that onion a little green? No? But doesn't it look…no? Oh. Ok. I guess it doesn't. No, no, you're right. I mean, you must be. I'll have two thanks.
Why, when you look at a forest, is it the clumps of trees you see? And why do they appear different every day? Is it them ? Is it you? Is it the light? Does it matter? In the dark everything stays the same. In the dark you feel nothing and nothing makes everything seem contrived, like a pose before a mirror. But after nothing comes something. Or at any rate somethingness. The lumps are showing at least.
So these, then, are the inscrutable beginnings. The stuff that came from nothing. The shapes revealed when the search was abandoned. The things stumbled upon as if by chance. From here it's the direct route, the linear path. It's time to surge onwards and stitch up the road behind; start with the cause for a change and see the effect for the hell of it.
Somehow you always end up facing the opposite direction or going backwards. But head toward something and see what you find. Maybe nothing but then, that's not such a bad place to begin, or end.
---
Previous Work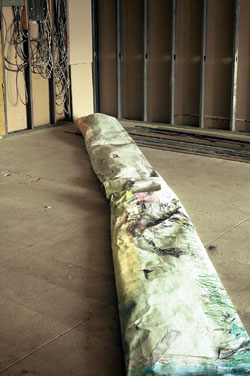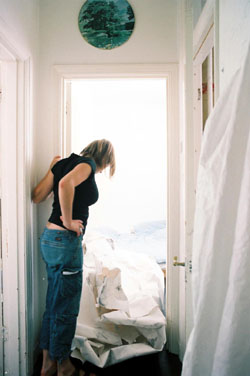 "My work centres around the same things: structure, drawing and the relationship between the 2-Dimensional and 3-Dimensional. If my work is a response to where I am and what I experience, then I would describe it as autobiographical. Within my practice there is a constant battle between order and disorder, formal concepts disrupted by chance and the inability to produce what I originally had in mind."
Chloe Steele
Born in 1975 E-mail
chloe.steele@lineone.net
Exhibitions
2010
FringeMK
Painting Prize finalist Site-specific wall drawing for Re:place as part of Ilkeston Festival, Derbyshire
2008
Yellow Days
, Collyer-Bristow Gallery, London (solo)
2007
Sovereign European Art Prize 2007, Club Row, London
Drawn Apart
, Contemporary Art Projects & Day and Faber, London
2006
Residue
, Firstsite, Colchester
Objects for future shapes
, Château de Sacy
Flat Things
, Holt Gallery, Sherborne (solo)
2004
Furthermore, 'a book of proposals'
, launched Liverpool Biennial, Liverpool
Unplumbed
, Keith Talent Gallery, London
Multi Storey
, Pump House Gallery, London
2003
Perfect Imperfect: British Properties II
, Carleton University Art Gallery, Ottawa & Modern Fuel Gallery, Kingston, Ontario
Flat Pack
, Turner Centre, Margate
The Simple Truth
, Norwich Gallery, Norwich
Sheffield 03
, Millennium Galleries, Sheffield
2002
Perfect Imperfect
, Elveden Hall, Suffolk; Bury St Edmunds Art Gallery; Taxi Gallery, Cambridge & Norwich Arts Centre
2001
Block View
, Queen of Hungary, Norwich (solo)
Up in the Air
, Kirby Gallery, Kirby (catalogue)
Residencies
2006
Slade School / West Dean Residency, West Dean College, Chichester
Objects for future shapes
, Château de Sacy
2004
Match Making on Suzhou Creek
, Eastlink Gallery, Shanghai, China
2003
Gasworks workshop
, HweiLan, Taiwan Artist Links Delta Residency on Suzhou Creek, Shanghai, China
2000
Up in the Air
, Kenley Close, Liverpool
Education
2003-2005
Slade School of Fine Art (MFA Painting)
1994-1999
University of Edinburgh / Edinburgh College of Art (MA (Hons) Fine Art: First)
1993-1994
Chelsea College of Art and Design (Foundation)
Awards and Grants
2005
Henry Tonks Prize, Slade School of Fine Art
2004
Commission for the British Council, Shanghai
2003
AHRB grant British Council Grants to Artists Arts Council England Awards for Artists
2002
Observer Hodge Photographic Award (Highly Commended) Commissions East Awards for Artists
2001
Commissions East Awards for Artists
2000
British Institute of Persian Studies Research Grant
1999
Helen A Rose Bequest, Edinburgh College of Art