Kate V. Robertson
Fin de Performance
The world of objects is crude and immodest. It hides nothing, surrendering everything to our scrutiny – mass, weight, extension, surface, texture, decay. And like a method actor that manifests a character's personality in a limp or a stooped back, objects signify an inner life in all manner of character traits. A tree branch is crooked by nature.
It is this nauseating honesty that motivates an inclination toward mimetic realism in art – the inclination to copy nature in all its gritty detail. Art acquires a heroic modesty in showing the world as it really is, unflinchingly reiterating its abject truth. And by performing the real the artist does not simply imitate what is actual but instead apes the performance that is the real. Reality, in all its sordid detail, is a performance, and to copy it is to parody the performance itself. The world is already a filthy joke, a grimy satire.
Emma Bovary hoped she might one day escape the gravitational pull of the material world, that she might be whisked away from her rustic, provincial setting to find beauty and prosperity. But it was not her reality of limited means or opportunities that set Madame Bovary straight, it was the stark reality of things that mocked and ridiculed her ambitions: "…that little room on the ground floor, with the stove which smoked, the door which cried, the walls which glistened, the moist stones; all the bitterness of existence seemed to her to be served on her plate, and with the smoke of the boiling stew there rose from the depth of her soul waves of nausea."
Those who choose to delude themselves will always end up damaged by the ironical cacophony of the real. If only she had listened carefully, Emma Bovary would have been less surprised at the incessant racket of objects – they've all got something to say, and even the most banal of things tells a story. Idealists beware: ignore the world around you and risk being sickened by stoves, doors, walls and dinner. The world of objects is crude and immodest. It hides nothing, surrendering everything to our scrutiny and leaving nothing to the imagination.
---
Previous Work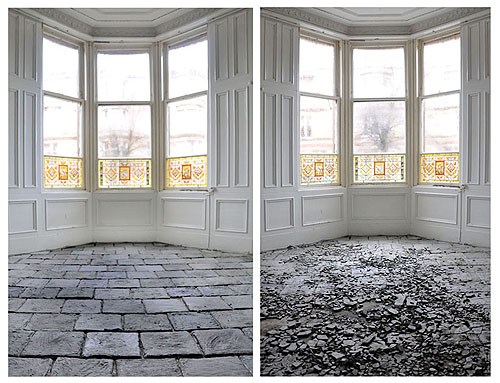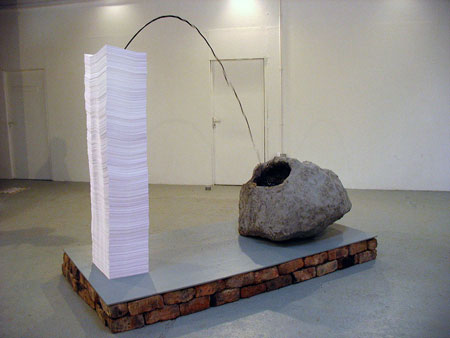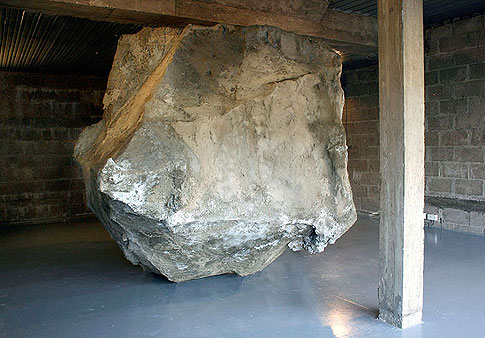 Kate V. Robertson
Born in Edinburgh, 1980. E-mail
kate@katevrobertson.com
Web:
www.katevrobertson.com
Selected Exhibitions
2012
Fin de Performance
, residency and exhibition, Château de Sacy, Oise, France
Paper
, MAMAC, Nice, France David Dale Gallery, Glasgow International (with Kilian Rüthemann)
2011
Vault Art Glasgow
, The Briggait, Glasgow
Industrial Aesthetics
, Hunter College/Times Square Gallery, New York
Plaza
, Rez-de-Chaussée, Glasgow (solo)
Tonchenn Tours
, Berlin (with Kathrin Koster)
2010
Tomorrows Another Day
, Market Gallery, Glasgow (solo)
To Be Continued…
, Edinburgh Sculpture Workshops (solo)
Pieces
, Feinkost, Berlin (solo)
What Structures
, Intermedia Gallery, Glasgow (solo)
All Insignificant Things Must Disappear
, Trinity Church, NYC
During Office Hours
, Feinkost hosted by VGF, Berlin
Rubble Stir
, The Glue Factory, Glasgow
Breaking Windows
, Feinkost, Berlin
2009
Running Time
, Scottish National Gallery of Modern Art, Edinburgh
Vantage
, Bloomfield College, New Jersey
Set it Up and Go
, Artnews Projects, Berlin MFA Degree Show, Tramway, Glasgow
2008
Far Away So Close
, Subletters Gallery, New York
Public Art / Offsite / Performance Projects
2010
Atypical Root Public Art Trail
, Glasgow International Festival of Visual Art
2009
Shortlisted for
Artists Taking the Lead
commission, London 2012 Cultural Olympiad, Scotland
Les Urbaines Festival
, Lausanne (with The Cause of Inflation Damage Limitation Orchestra)
Notices
, Edinburgh Art Festival
Plateaux Festival
, Frankfurt (with The Cause of Inflation Damage Limitation Orchestra)
2008
Orate
[audio installation], Brooklyn, New York
Times Square Billboards
, New York
Election Tree
[performance on election day], New York
2007
Big in Falkirk
, Environmental Art Project
Residencies
2012
Château de Sacy, Oise, France
2011
Creative Lab, Centre for Contemporary Art, Glasgow
2010
Studio Project #23, Market Gallery, Glasgow
2009
Plateaux Festival of Live Art – New Commission Residency, Künstlerhaus Mousonturm, Frankfurt (with The Cause of Inflation Damage Limitation Orchestra)
Awards
2011
Arts Trust Scotland Grant Creative Scotland Artists Development Grant
2010
Edinburgh Sculpture Workshop Production Award
2009
Scottish Arts Council – Artists Taking the Lead – shortlisted proposal development Arts Trust Scotland (Cause of Inflation Damage Limitation Orchestra)
2003
Roger Akling Prize, Degree Show
Collections
Private Collection of Joao Tovar (Monaco) Private Collection of Aaron Moulton (Berlin)
Press
2011
Herald, Vault Feature Scotland on Sunday, Vault Preview Sunday Herald, Vault Preview The Skinny,
Weird Silence
by Alex Hetherington The List, Preview 2011
2010
The Skinny, Review of Studio Project #23 at Market Gallery
2009
The Herald,
Artists Taking the Lead
Sunday Herald,
The Art of Being Invisible
, Sarah Urwin Jones The List,
Agenda
page
Professional
2011
Board of Directors of Glasgow Sculpture Studios
Talks / Lectures
2010
In conversation with Alex Hetherington
, Edinburgh Sculpture Workshop
Artist Talk
, Market Gallery, Glasgow
2007
Artist Talk
and tutorials, Glasgow School of Art
2006
Initiative Frontiers
, lecture on "Working as a Collective", Next Wave, Melbourne
Education
2009
Master of Fine Art (Distinction), Glasgow School of Art
2008
Master of Fine Art (Exchange Semester), Hunter College, New York
2003
BA (Hons) Fine Art (Fine Art Photography), Glasgow School of Art