Laurence Nyx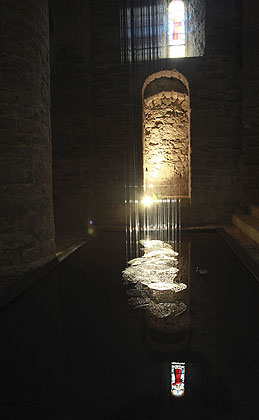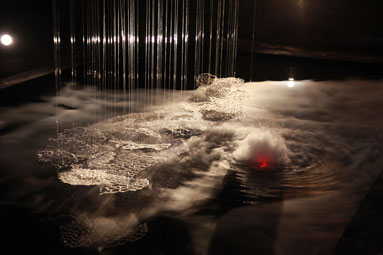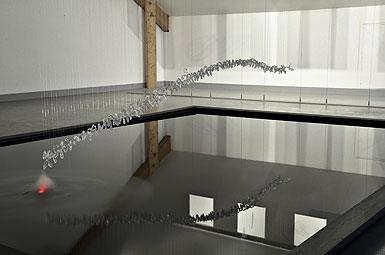 The château's attic reflects the vertiginous shell of a boat, a suspended and motionless vessel revealed by a vast opaque pool. Directly above that water mirror, vegetation brought from the garden by the wind rises to the surface, answering the slightest breeze, capturing the light.
---
Laurence Nyx
Web
www.laurence-nyx.fr
Solo Exhibitions
2007
Le Ciel Renversé
, Galerie No-Smoking, in partnership with ESGAA (European Studio Glass Art Association), Strasbourg
2006
Dans l'Eau du Miroir, Capturer d'Eternelles Rosées
, Château de Sucy, near Paris. Installation.
2002
El Jardi Radiografic
, Galeria Maria Villalba i Badia, Barcelona
2001
Les Versatiles au Grand Cordel
, Rennes
1999
Quelques Vaisseaux Vagues
, Espace Expérimental 0…3/4, Atelier Silex, Trois Rivières, Quebec
1997
Mémoire de l'Invisible
, Galerie du Centre régional des œuvres universitaires, Rennes
Group Exhibitions
2012
Arts à la pointe
, Cap accueil, Circuit d'art contemporain et patrimoine, Cap Sizun, Finistère. Installation.
2011
Souffle Fertile
, Cancale, Halle à Marée
Chapelles d'art
, Chapelle Notre Dame Des Champs, Mostuéjouls, near Millau, Aveyron. Installation
Passager dans la Nuit
. Biennale internationale du verre, Strasbourg (ESGAA)
2003
Biennale d'art contemporain Le Regard des Autres, Saint Brieuc
1998
Open Atelier SEPA - Le Bon Accueil, Rennes
Residencies
2001
Residency at the Rectoria Contemporary Art Centre, near Barcelona
1998-1999
Artist-in-residence, Trois-Rivières, near Montréal, in a self-managed artists' workshop, glass department
Grants and Awards
2011
Strasbourg International Glass Prize (ESGAA)
2000
Artistic Creation grant, Ministère de la Culture (DRAC Bretagne)
1997-1998
Granted artist's workshop (Ville de Rennes)
Education
2000-2002
Training from glass professionals as part of Artistic Creation grant (DRAC Bretagne)
1995
Agrégation d'Arts Plastiques (National Competitive Exam, Plastic Arts)