Lloyd Durling
Bit part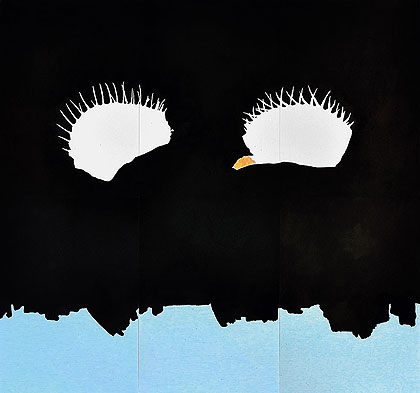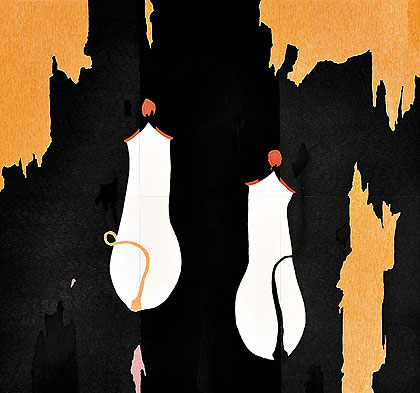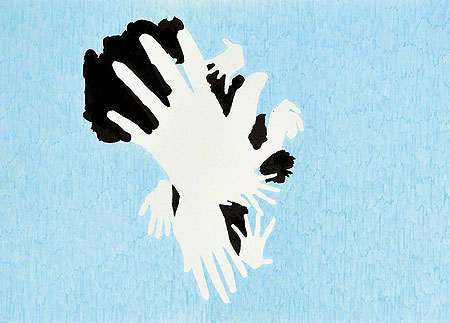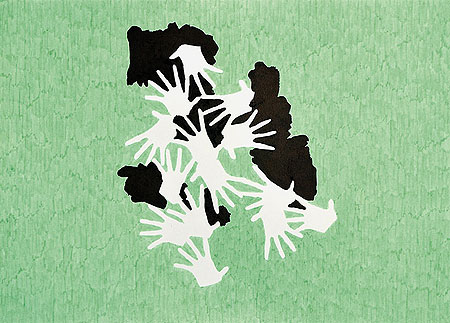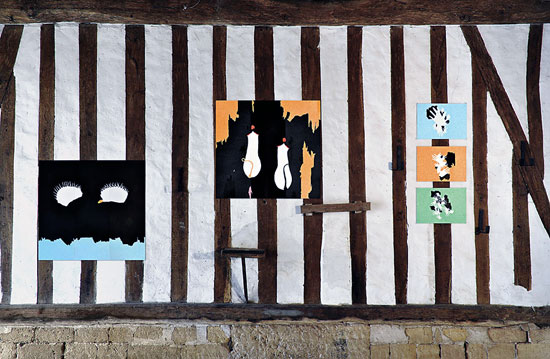 Bit part
At the heart of Durling's work is a duality between form and non form. But this duality is not a Manichean statement, it is far more worldly and smart for such a simplistic light/dark, good/evil analogy. It is too engrossed in sensuality and the corporeal to endure such restriction.
The apparent economy of structure is the result of a cumulative process whereby each repeated mark has its own micro-aura of overlap and placement that is mirrored by the work as a whole. But rather than being a mere a struggle for effect, the charm or trance of repetition creates a dynamism akin to a static discharge. The simplicity of his dominant media, felt-tip and oil, the use of paper as support, brings us straight to the surface.
The importance of surface cannot be underestimated. Line is replaced by areas of contact, overlap and omission. Space is filled around an image. Areas left blank depart from their role as suggestive silhouette and resonate with the absence of form. Here we are drawn into immediate participation, our need for information becomes the driving force. And ultimately this is what it's about. Information.
Earlier work, which deals with stripped-down environments, carries a certain cinematic retro-sheen, and with it the concept of the edit. Difficult to locate historically, it seems the question being asked is when does the present slip into the past, and how much of that perception is mediated through the fictions we are exposed to. Durling has cited an indebtedness to the cinematography of Claude Chabrol, taking particular note of the textural collision between atavistic expression and social convention, the calm surface disrupted by unexpected bursts of brutality in films such as Le Femme infidèle, Le Boucher, or Que la bête meure.
Recent work focuses on the overtly sexual/sensual nature of plants, as well as what might be perceived as an inherent cruelty. Stylistically, in the suggestion of collage and tearing, we find discreet references to the work of Clyfford Still, another key influence. Form is once again conveyed through accumulation and omission, but with the added complexity of suggested forms. One particular work comes to mind. New Lips. Chromatically it displays Durling's signature embedded coolness. But even putting aside the guidance of title, pitcher plant metamorphoses into mouth. However, the straightforward association between plant and lips enters into unsettling territory. This is a mouth composed of grafted or transplanted skin. As with many of the plant drawings, there is a repellent energy, the seductive segues into something less so, becoming a confrontation with mortality, a close-up that defamiliarises the traditional take on the memento mori. It should be noted that the surface here also enjoys an explorative loosening through the application of water, an untying of labour with an abandon that takes the work into new areas.
The graft-work alluded to in New Lips brings us to present explorations at Château de Sacy. An ambitious intervention involving the interaction of artwork with environment, the grafting of image onto its subject. An exploration where artwork becomes actual surface of the world, as well as its testimony.
---
Previous Work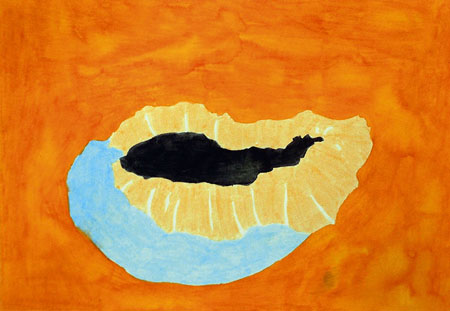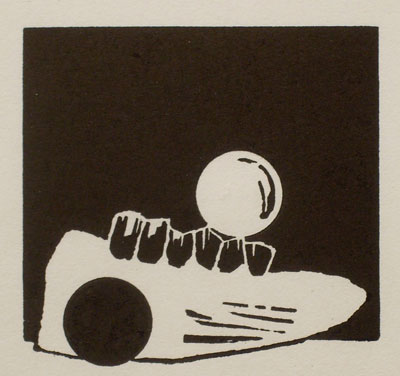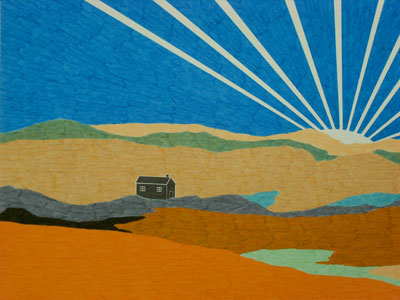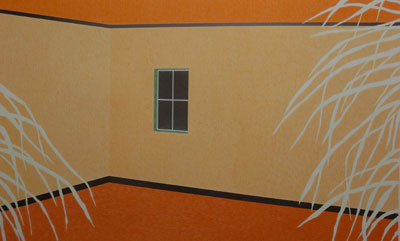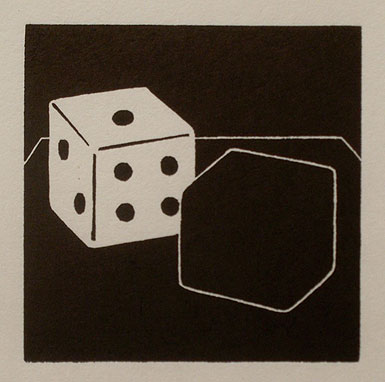 Lloyd Durling
Born in Solihull. Lives & works in London. E-mail
lloyddurling@hotmail.com
Solo Exhibitions
2011
Bit Part
, Château de Sacy, Picardy
Assembly
, Chapter, Cardiff
2010
Laughter Staggers On
, Golden, Chicago
2006
Schadenfreude
, Royal Academy of Arts, Sackler Project Gallery, London
Somewhere Better Than This
, Pippy Houldsworth, London
Selected Group Exhibitions
2010
International Biennial of Engraving, Acqui Terme, Italy
Sweet Dis/order
, Whitworth Art Gallery & Museum, Manchester
2009
The Disciples of Lucas Cranach
, Utrophia Project Space, London
Exeter Contemporary Open
, Exeter Phoenix Arts Centre
Supernature
, View Art Gallery, Bristol
(….)
, Omphalos Arte Contemporanea, Bari, Italy
Hanging In The Balance
, Pippy Houldsworth, London
2008
Rotate
, Contemporary Art Society, London
The Golden Record
, Collective Gallery, Edinburgh
2007
Loners' Island
, g39, Cardiff
Revolver
, Second Exposure, Penzance
Things We Lost In The Fire
, City Art Gallery, Leicester
Salon 2007 New British Painting & Works On Paper
, London
2006
Things We Lost In The Fire
, Transition, LondonOutpost Contemporary Art, Los Angeles
Publications
2010
Artslant,
Laughter Staggers On
, June 2010, Review by Robyn Farrell Roulo
2009
Drawn In, AN Magazine, July 2009, Review by Nigel Davies Supernature, Art Cornwall, Review by Patrick Brandon Matchbox, 12th February 2009 The First Post, 9th February 2009, Review by Neal Brown
2008
One In The Other, g39 Publication, 2008 Revolver, New Wave In Cornish Art, Publication by Smith & Stox
2007
The Guardian, 15th December 2007, Review by Jessica Lack The Guardian, 10th March 2007, Review by Robert Clark Garageland Magazine, Issue 2, Article by Gordon Dalton Kulturflash, Issue 172, March 2007
2006
Niete Per La Giente, Young Mountains Publishing, 2006
Collections, Residencies & Awards
Residency, Ateliers d'artistes de Sacy, 2011 Oppenheim John-Downes Memorial Trust. Awarded Dec 2010 Museum of Engraving Collection, Paleologi Castle, Italy Progressive Art Collection, USA Whitworth Art Gallery & Museum, Manchester, UK Nomura Bank, Japan Fidelity PLC, London Private Collection of Gillian Anderson Private Collections In the United Kingdom
Education
2003-2004
The London Institute
1997-2000
Birmingham Institute of Art & Design
1995-1997
Solihull College of Technology