Lynn Schwartz
Planks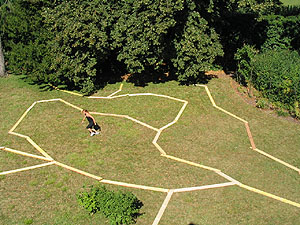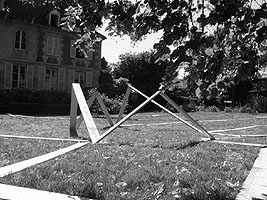 Planks
A revelation of place and pathway of moment, connection and flow
Markers of phenomena
'Planks' is an opening to seeing and relating phenomenal spatial dimensions through dance–accomplished by setting a pathway in response to dynamic landscape process and change relationships. Planks are placed on surfaces as visible markers identifying moments and constructing pathway relationships. They are a mode in the journey of a dancer as a body independent and part of site phenomena. 'Planks' is a journey of participation. They are part of unseen ephemeral flows and act as rafts, conduits, forms, signifiers and affects in space.
In space
'Planks' is an endeavor to experience a place through movement and dance and to outline and mark a meander of paralleling motion and articulating thresholds in a sinuous space. 'Planks' goes further by purposefully creating a surface on a horizontal plane that offers entrances at various physical and phenomenal scales. The dancer as both participant and observer defines space in an open system.
As a map
The installation represents a series of layers mapping space through meaning, phenomena and interaction. 'Planks' performs as a marker on top of and between interstitial spaces. Layers are considered to be above and below the earth's surface and inside and outside of the space. They are contextual. They are realized through experiential moments. When the dancer performs, she observes phenomena and becomes phenomena through affect, as in affecting and being affected within a place. This place may be what Spinoza refers to as a plane of immanence. The surface of the earth and the surface of our thinking in this installation space, is the plane. Viewing from further away explicitly reveals a perspective of curvature and flow. The closer view is more a moment and becomes the ephemeral experience.
In place and meaning
Each plank is a fragment, an intelligible mark based upon a language of 'place making' through a series of moments. The series is one and a sequence unified into a physical and phenomenal language tracing phenomena in nature and in architecture. 'Planks' is a way of 'writing the landscape' that deciphers flow, position and movement in spatial relationships that hold meaning and define place.
In scale and reality
'Planks' initiates meaning by mapping an interpretation of space and scale. We see the veins in the leaf, the paths through the forest, the tributaries of the watershed and each plank as a fragment of the whole. The installation is a platform positioned between the realities of two infrastructures interpreted through revelation and participation. 'Planks' builds a stage of perception by linking phenomena, dwelling and forest continuums.
---
Previous Work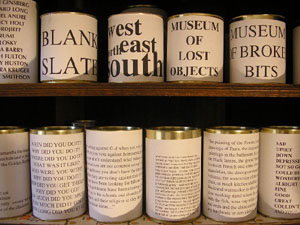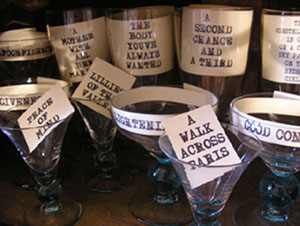 The cans can be seen as an index of objects, desires, characteristics, memories and observations. The labels are not full-out texts but rather phrases or words that trigger an unwritten text or image for me and for the viewer. I would like to continue in the same direction with the cans, yet discover new sources to draw from by meeting with people from Writtle and from seeing and walking about the countryside of Essex.
Lynn Schwartz
Born in USA, French since 1997 Plastic and Performance Artist
Solo Exhibitions
2005
Canned
, Galerie des Etonnées, Nogent sur Oise
Group Exhibitions in France
2004
Soupe à L'Art
, Montataire
Ivresse
, Espace Matisse, Creil
2003
Petite Paresse
, La Faïencerie, Creil
2000
Paquita
, Tour Biondi, Creil
1999
Ulysse
, Espace Matisse, Creil
1998
Common Thread
et
Woman's Work
, Faïencerie, Creil
1997
F.R.I.C.
, Marché Couverte, Le Prés-St-Gervais
Sculptures
, Faïencerie, Creil
A chacun son arbre
, Espace Matisse (Première Prix)
1996
NON
, Maison des Associations, Le Prés-St-Gervais
Exhibitions in the U.S.
Colorado
Beidelman Center for the Environment, Colorado Springs Museum of Loveland, Loveland Pikes Peak Arts Centre, Pikes Peak Education Festival, Denver Plasticraft Exhibition, Denver
Alaska
Galerie Folie de Seward, Kodiak Galerie du Couleur Local, Kodiak
Educational workshops
2000
Atelier pour Enfants
, Les Ageux
1998
Fil Common
, CIDF, Femmes Sans Frontières, Centre Georges Brassens, Creil
12 Jours pour L'École: Création en Tissu
, École Maternelle, Samasco, Creil
1997
Project English
, Association des maisons des enfants de Laversine, St Maximin
1992
Animatrice d'Art Plastiques
, RMCAD, Denver
Education
1988
Rocky Mountain College of Arts and Design - Plastic Arts
1986
University of Redlands - Degree in Literature and the Environment