Richard Negre
Déplacement nocturne
(nocturnal displacement)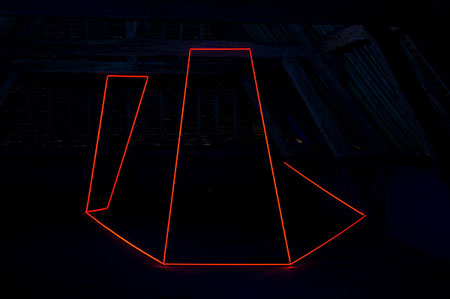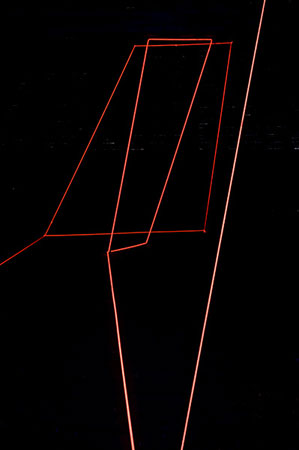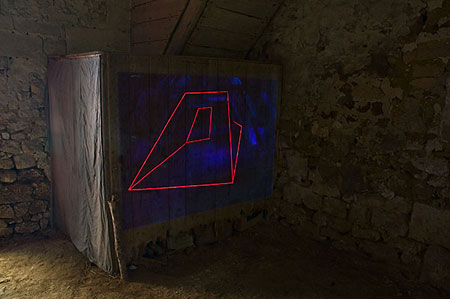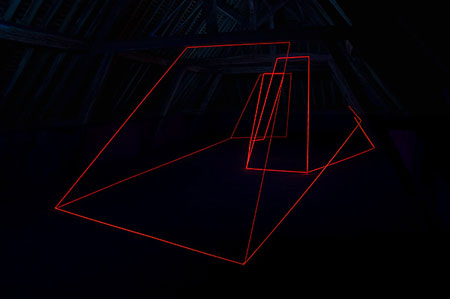 Duet on points
Richard Negre nailed ten pegs in the attic of the Château de Sacy's barn; these pegs were then linked with a fine fluorescent cord. He darkened the room, and only the lines drawn by the ropes were revealed by the ultraviolet light.
"The spectator creates the work (…) by inventing his own vision" Marcel Duchamp once declared. As the spectator moves, the vision of the space changes. The architectural character is revealed by the order of the lines, the underlying symmetry of shapes and especially the human scale that makes it interactive.
One can visualize the delimitation of a ground that plays, like a trompe-l'oeil, with the real floor level of the attic. Its perimeter is the base for two quadrangles expanding diagonally towards the centre of the structure. The overall view suggests a tent fixed by its pegs, of which only the masts remain visible.
Through this scenography Richard Negre has set the décor for the staging of the writing of movement. The artist then places himself behind his camera and takes thousands of pictures, each picture with a very small angle change. Once edited into a montage of all the pictures, one after the other, the film shows a choreographic drawing.
Between two fixed points, the line amplifies, extends, contracts, shortens, becomes a dot again and reforms… From its base, the line sways, oscillates, swings, whips the space and jerks around. We can imagine through this choreography a ballet dancer realizing sophisticated jumps and dance figures.
The language of Richard Negre is sober, without scene, without dancer, a minimalist abstraction as in the art of choreographer and dancer Merce Cunningham, who brings us to a sensual and organic vision of dance, exploring the complete gesture variations of a body submitted to all the different possible combinations. The singular aspect of Richard Negre's work is the dialogue or relation he sets between two figures, be it similar or different, through a face to face symmetry with axonometry techniques or with superposition through replication effects. These effects were also used in his previous pictorial series "Movement" and in his last two films "Waiting for" and "Organic geometries".
The duo in Sacy is represented by the two quadrangles set in space by the fine orange cord. They interfere one with each other in a transient relation that takes place through ample drawings, a fluid style where the speed also allows a certain breathing aspect.
Richard Negre's childhood was deeply influenced by dance, permanently nourishing his choreographic imagination. This ballet that he orchestrated here is born from the palpitation of shape, of their vibrations and contractions. In this duet, the figures get close to each other, melting into one another, until they become one, then expand, separate in osmosis or symbiosis. The quadrangles' movement is captured by the artist, who pulls the strings of their liaison, controls them, sets them free, distorts and separates them.
---
Previous Work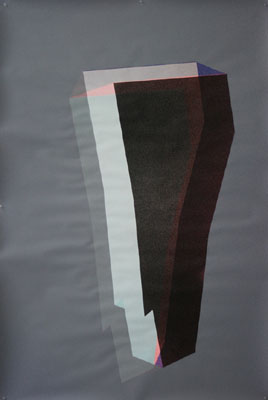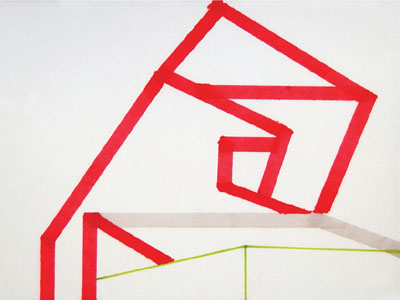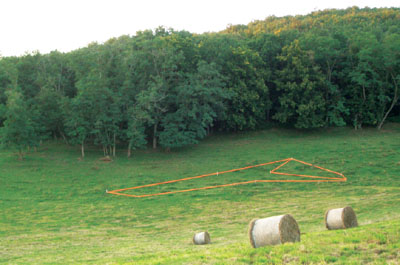 I am interested in the relationship between the planes of the picture, of volume and of film (animation). This study emanates from the original element of painting that is the point. I have noticed very quickly that the simple multiplication of this point creates a huge number of formal combinations. Rapidly, everything becomes complex. From the painting 's attempt to create immobility to the apparent mobility of film, the volume becomes its interval.
Through this multi-dimensional approach, the plane –where everything becomes possible– appears as a platform on which countless intersections are fulfilled.
It is from Borges that I adopt this mathematical approach to form; it is Forsythe's choreographies which have led me towards this idea of form-movement.
All is architecture. From the landscape that surrounds me, the body that I inhabit and my ever-watchful conscience. All is destruction/construction, appearance/disappearance, a constant passage from one state to another. In brief, all is transformation. This organicity of geometry runs through my head and searches for an immobility to be found in, perhaps, painting?
Richard Negre
Born in 1976, lives and works in Paris. Web
www.richardnegre.com
Exhibitions
2009
Déplacement nocturne
, Château de Sacy, Picardie
Archipel
, project by Tanc & Vincent, La Force de l'Art 02, Grand Palais, Paris
L'Art dans les Chapelles
, Morbihan
2008
Minimalisme complexe
, Galerie du Haut-Pavé, Paris (personal)
Qu'importe le voyage…
, Galerie Nicolas Silin, Paris
Novembre à Vitry
, Galerie municipale, Vitry/Seine
Le multiple, le fugitif, l'éphémère
, Salon de Montrouge
Ordre et désordre
, Biennale d'Arts Plastiques, Villeneuve-la-Garenne
2007
Novembre à Vitry
, Galerie municipale, Vitry/Seine
2006
Novembre à Vitry
, Galerie municipale, Vitry/Seine
Estampa
, Imprimerie d'Alsace-Lozère, Madrid
2002
Paisatges
, Galeria Espai 29, Andorra
Filmography
2009
Géometries organiques
, 3' La force de l'Art 02, Grand Palais, Paris
2008
En attendant
, 3'06'' - Badlands Productions Festivals (selection):
2009
Miaf Melbourne; Mecal Barcelona Festival International du Film sur l'Art, Montreal Int'l Fest of Cinema and Technology, Los Angeles
2008
Festival International du Film d'Animation, Ottawa Festival International du Film d'Animation, Annecy Festival International du Film d'Animation, Istanbul Anilogue, Budapest/Vienna Giraf Animation Festival, Calgary Mostraminima, Valencia
2006
Sous l'escalier
, 5'37'' - Badlands Productions Festivals:
2008
Int'l Fest of Cinema and Technology, Washington DC - Prix
2007
Festival International du Film sur l'Art, Montreal Vidéoformes, Clermont-Ferrand
1999
La forme et la couleur
, 6'22'' - Production Gobelins
Residencies
2009
Château de Sacy, Picardie
2006
International Workshop, Atelier of Alexandria, Egypt
Public commission
2006
Vivre sans pétrole ?
, peinture murale (19 x 4.40 m), Caen Memorial
Publications
2009
Soulèvement
, poems by Tita Reut, Imprimerie d'Alsace-Lozère, BnF
2006
Furieux de ces bagarres
, poems by Alexandre Gambler, Presses de Barataria, BnF
Scenography
1999
Trust me
, Contemporary Dance Theatre, Lincoln Center, New York
Education
1998
Cinéma d'animation - Gobelins, Paris
1996
Académie Charpentier, Paris