Rob Turner
2019 Residency Project
I would like to continue and explore map making again for this residency, this time narrowing down the area to the village of Sacy-le-Petit. A map of the village with its immediate environs. I have next to no French, or any local knowledge, and collecting information to include on this map becomes a task. Communication in a common language is straight forward, without it a different type of interaction has to take place! By engaging with local people however I can, I hope to make a pictorial map of Sacy-le-Petit. The information on this map is as yet unidentified and the process is the important aspect for me in this residency. The outcome I hope will span languages, with the result understood by French and English speakers alike.
I think by attempting to show local history, heritage and culture by engaging with people without much common language is where visual information becomes an important tool. I am looking to experiment on this residency to find out how this goes.
---
Previous Work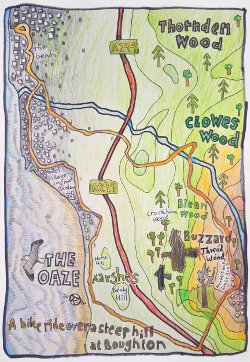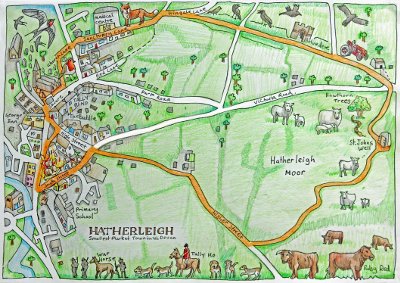 ---
Rob Turner
Web:
robturners.blogspot.com
Current Projects
Creative Civic Change
, a project with residents of Newington to develop landscaping features and equipment for better use of green communal spaces in Ramsgate, Kent. Activity Pack exploring Fort Burgoyne in Dover, a former MOD site in transition and ownership. Achieve Explore Arts Awards for 3 local schools. Working with Animate arts and The Land Trust. The Pudding Pan Pots Exhibition, working with a museum curator at the Seaside Museum, Herne Bay, to co-curate an exhibition about Roman Pottery found in the Thames Estuary.
Residencies
2018
Hidden Histories
, six community trail maps of rural North Devon: Working with Beaford Arts and J. Ravilious photographic archive, celebrating culture and heritage in North Devon.
2015
The Beaney House of Art and Knowledge, Canterbury, Kent. Local Maps and Travelogues researched from the council's map archive. Project producing the 'Canterbury Peoples Map'.
2013
Sculpting Stories
, residency exploring story telling and sculpture to create a trail around the school grounds made with pupils at Borden Junior School, Hampshire Education Authority.
2011
The Wildart Trail, Thornden Wood, Kent. Cultural Awards finalist, indigenous materials sculpture trail and residency funded by The Kent Wildlife and Trust, Canterbury City Council.
2009
The Little Blue Hut
, Beach Hut, Tankerton Slopes, Kent. Musical Wind Sculpture (Aeolian Harp) supported by Canterbury City Council.
2006
Ruperra Forest Festival - Artist in Residence. Coed Graig. Mosaic sculpture workshops and the building of clay oven with festival visitors. Commissioned by Coed Hills Rural Arts.
2005
Artist in Residence at Briary School, Greenhill, Kent. To research, design and win funding to deliver playground and garden improvements. Woolworth Playground Partnerships 1st Prize.
2004
Coed Hills Rural Arts Space Sculpture Trail, Vale of Glamorgan, Wales. Creating artworks for the Kitchen Gardens open to visitors. Commissioned by Coed Hills Rural Arts Space. Ellis Guildford School and Sports College, Nottingham. Bringing together the student council and architects (Maber Ass.) To design and create the inner courtyard garden and fountain. Commissioned by Creative Partnerships.
2002
Bury Metro & Irwell Valley Housing Assoc. Sculptor in residence, East Ward, Bury. To deliver community-led signage project.
1999
Eversholt Village artist in residence. Working with villagers to create a mosaic Millennium Celebration Village Map which completed the opening of the new Community Hall.
1998
Great Ormond Street Hospital, London - Artist in Residence. Using the Peter Pan story to design Entrance Feature Murals, working with long-term patients in the Hospital School.
1995-98
4 year residency with Greenwich Healthcare Trust, London. Producing artworks in a range of different media for sites, spaces and functions in healthcare settings across two hospital buildings in the Borough of Greenwich.
Selected Public Art Commissions
2017
The Clock Tower Plaza Mosaics
, 6 floor mosaics celebrating the cultural highlights of Herne Bay. Commissioned by the Friends of the Clock Tower, funded by the Heritage Lottery Fund.
Map of Watchfield
, made with residents of the town, primary school pupils and serving families in the armed forces. Commissioned by the Vale of the White Horse District Council.
Centenary Mosaic
, La Sainte Union Convent School. Commissioned by The Church Our Lady Of The Sacred Heart, Kent.
2016
Eastern Gateway Feature:
Kingsmere Biscester pedestrian floorscape
. A series of seven mosaics inspired by the developer's environmental report and the natural history of the site. Commissioned by Countryside Properties and Cherwell District Council.
The Great Herne Bay Map Project
, a giant map of Herne Bay made with residents of the town. Commissioned by the Seaside Museum, Herne Bay, Kent.
2014
The Groyne Wood Bench
. Public Seating, Herne Bay Coastal Park. Commissioned by Canterbury City Council, with funding from the People's Millions.
The Nunhead Welcome Mosaic
, 4.2 x 1.2m threshold feature highlighting cultural references of Nunhead. Working with AOC Architects, commissioned by Southwark Council.
2013
Public Toilets, East Cliff, Dover. Organic internal tiling scheme. Commissioned by Dover Town Council.
The Taliesin Stones
, Strata Florida Abbey, Wales, permanent mosaic display of two commissioned poems written by Gwyneth Lewis, the first national poet for Wales. CADW.
The Tale of Winnall Moors
. Multifunctional sculpture trail with illustrated children's story book. Commissioned by Hampshire Wildlife Trust.
2012
Nunhead Mosaic Map
, Nunhead Rail Station Refurbishments. Commissioned by Southwark Council.
Recent Installations and Events
2018
Art in the Copse Project
, increasing the use and profile of an underused/confused local community space. Working with Aim4, funded by Newington Big Local, Ramsgate, Kent.
Mapping Lives
, cardboard model of the Springfield neighbourhood community in Clapham, London, made with residents and community groups, commissioned by Cultural Connections.
The History Maps
, Sevenoaks Primary School. Three Maps showing school stories and past histories. Phase two: large exterior mural. Working with Animate Arts, Heritage lottery funded.
2017
The Big Picture
, possibly the largest painting in the UK over 5000m². Part of an artists' delivery team working with the community of Herne Bay to create the huge work inspired by The Dawn Horse, the earliest horse fossil found on the nearby coastline. Funded by the Kent Community Foundation and The National Lottery.
Craft This City
, a 2 day event at the Royal Festival Hall to build a cardboard model of London with visitors to the South Bank. Working with Animate Arts Company and South Bank Centre.
Young Art Advocates
, animation project in an Isle of Sheppey School making stop motion animated films. Young Art Advocates Programme, commissioned by Christchurch University.
2016
Home Town
, cardboard installation exploring the theme "What is home?". Working with Animate Arts for The bOing! Family Festival, Gulbenkien Theatre, on the Kent University Campus. A modified plywood photo booth constructed as the live drawing events focal point in the Bandstand, for use during the 2016 National Cartoon Festival in Herne Bay.
Explorers x5 Animation Films
, working with five primary schools in Kent using stop motion animation techniques. Commissioned by the Gulbenkien Outreach Education Dept.
Inspirar Favela Installation
, cardboard installation of Favela Houses made with primary schools. Displayed at two venues: The Kaleidoscope Art Gallery, Sevenoaks, and The Gulbenkien Theatre, Canterbury, as part of the BOing! Family Festival 2016. Delivered as part of the Inspire Arts Programme across Kent, working with Animate Arts.
Navigation and Interpretation
2018
Interpretation Panels and woodpecker installation for an educational tree trail around Thornden Woods (SSSI), commissioned by the Kent Wildlife Trust, funded by South East Water.
2016-17
The Knitting Bombers Map
, pictorial map and promotional leaflet showing 30 letter boxes in Herne Bay with temporary Xmas decorations. Map published by The Cosy Crew.
2016
The Herne Bay Art Trail Map
, leaflet and pictorial map showing public artworks and contextual background info about the art in Herne Bay. Commissioned by Canterbury City Council.
2015
The BOing! Family Festival site map
, Kent University Campus. Commissioned by the Gulbenkien Theatre Kent.
2014
Trail map and leaflet of the Coastal Park Trail Herne Bay, also incorporated into the interpretation panels along the sea front, Herne Bay Commissioned by Canterbury City Council.
2013
General signage and illustrated children's story book around the Winnall Moors Sculpture Trail, commissioned by The Hampshire Wildlife Trust.
2012
Interpretation panels and Wildart Sculpture Trail maps for Thornden Wood. Commissioned by The Kent Wildlife Trust.
Awards
2017
Kent Creative Awards Winner, Category: Public Art.
2014
National Gold Standard Award, Loo's of the Year, nominated finalist. Interior tiling scheme, East Cliff Public Toilets. Working with Dover Town Council.
2012
Wildart Trail, shortlisted finalist in two categories: Community Award and Cultural Landscape Award. Canterbury Culture Awards.
2010
A-N Artists Information Company, Artists Talking, Blogger of the Year 2009, for a dog walking diary
A Walk with Cosmo
.
2009
Loos of the year awards, 4 stars for Ventnor Esplanade public toilets. Working with Bigstalbot Arch. and Isle of Wight Council.
2008
Loos of the year awards, 4 stars for Yaverland and Brading public toilets. Working with Bigstalbot Arch. and Isle of Wight Council.
2003
Woolworth Playground Partnership, 1st Prize award winner. Briary School, Kent. London Tourism Award for contribution to the Belenden Renewal scheme. Construction and installation of two large wall mosaics, commissioned by Southwark Council.
1999
Local Government News Pedestrian Environment category award winner, Gloucester City Centre. Trades Trail city paving scheme mosaic features. Commissioned by Gloucester City Council.
1998
Hampton Court Flower Show, Silver Guilt Medal with JWP Landscape Arch. Parterre garden mosaics made with a local girl guide group. Commissioned by JWP Landscape Architects. Local Government News Urban Landscape category, Award winner, Bede Island, Leicester. Urban standing stone circle plaza feature. Commissioned by Leicester City Challenge.
1997
Croydon Design Award for design & environmental quality. Fish Pond pocket park floor mosaic with new landscaping scheme. Commissioned by Croydon Council.
1993
Sutton & Cheam Town Centre Design Award for visual character. The Heritage Mosaic in Sutton High Street. Commissioned by Sutton Council.