Ruth Scott
Trace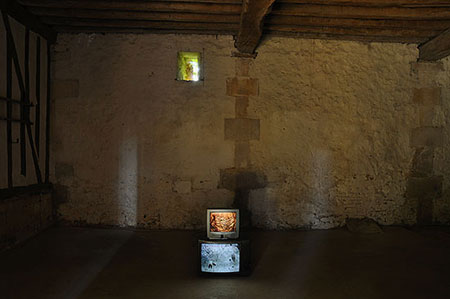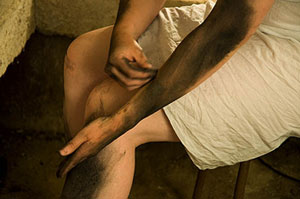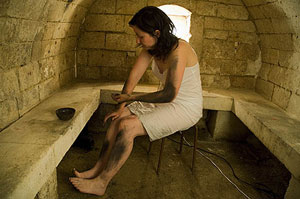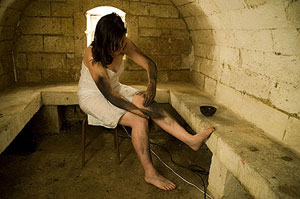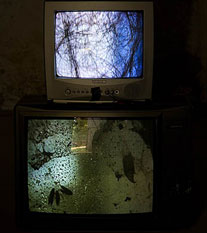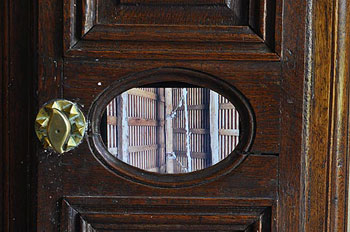 Trace
Time passes here in a rhythmic way - the programmed church bells keep everything in sync. A watch or a clock is not necessary - one only needs to listen to the number of chimes to know that it is time to have dinner or to retire for the evening.
The trapeze that hangs in the attic moves like a pendulum. The movement of this object (once practiced on by Philippe Petit) echoes the ordered bell ringing, yet slowly swings to a stop. Trapeze Time, a short film presented on a small screen through a glass panel in a non-working clock reminds us of the importance of time (and lack of it) at the Château.
Cobwebs exist at almost every turn in the crevices of the building and grounds. The complexity of the web reminds me of hair strands, especially when a spider uses one of my own hairs to create its web. This creation vanishes overnight, emphasising the fragility of the cobweb. The films Web & Strand use cobwebs and hair strands seen through the camera lens. One is taken on a guided tour of the house and grounds where the perspective oscillates between physical movement and the dense surface of the web.
Charcoal is a material I have often used to mark the time and site of my performances. While at the Château I have investigated how charcoal is used to clean people's bodies and their living space. A chestnut tree in the corner of the grounds was struck by lightning shortly before I arrived. I have used the ashes and charcoal from this burnt tree in the performance, Charcoal Skin. My hands, feet, teeth and dress become the document of this durational performance as the charcoal both cleans and marks my body. Charcoal Skin takes place in a small cellar where the private act of cleaning is re-affirmed - only one person at a time may witness the performance.
---
Before she arrived at Château de Sacy Ruth Scott had been involved in a series of works that explored the relationship between the artist and the spaces they inhabit, using various media, including video and sound installations, to test the temporal and ephemeral energy of artists working in the idiom of performance. Artists such as Vito Acconci (performance artist of the 1960's and 70's) were an inspiration for early works in which the artists' physical self became both image and medium. For example work, Box Performance 2006 asks when does a tent become a canvas?
Let us imagine we are in a tent as the sun goes down. We are writing on the wall of our canvas enclosure as the chromatic texture of the world changes. Light is over-written by darkness. This inscription on the soft surface of our habitation signals our presence. The words are surfaced and reside in our absence - our marks are not merely hieroglyphs to be deciphered, they are raw marks, sparks of the primal energy from this animal that creates shelter and tools for being in space. Our tent is both a space for projection and protection, a space for imaginary nights under the stars.
Scott's lines are never figurative but evocative of nomadic ideas that refuse to settle down. Our only defence is to draw borders quickly to repel this infinity, pulling ink across velum, biro on a pencil case, charcoal on a cave wall deep underground. It is the trace itself, the supplement of consciousness, the mirror to becoming human, light across the darkness of night.
During the residency she has defined her trajectory as a continuation of this abstract but physical mediation of her body through space. The artist will return to the supplement of drawing to explore "how our bodies can be mapped out by tracing their movements and recording their absence."
---
Previous Work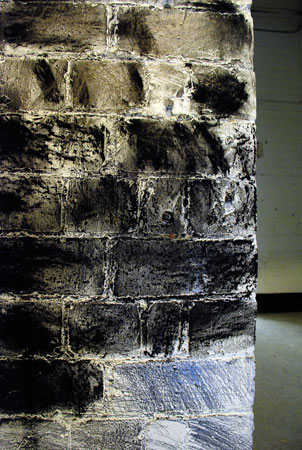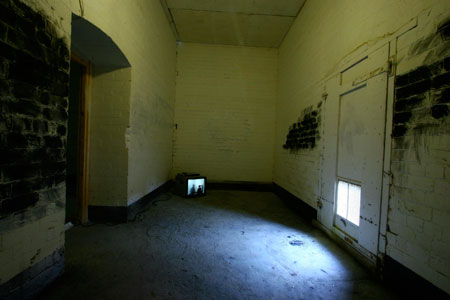 Ruth Scott
Born 1982, UK Lives in Philadelphia, USA Web
www.ruthruthscott.com
Selected Art Exhibitions
2012
Shin Jidai: Contemporary Japanese Book and Paper Arts Exhibit
, Minnesota Center of the Book
Made in Sacy
, group exhibition, 12 Star Gallery, London
2011
Old Habits Die Hard
, film included in
Rituals
exhibition, 129 Gallery, Berlin.
Order
, film included in Vertical Cinema screening, Cardiff
Narrator
, edited film shown at Madlab, Manchester
2010
The Heuristics Laboratory
, group exhibition, Sideshow Commission, Nottingham
Annuunciazioni
, Casa Masaccio / Museo della Basilica. Group exhibition curated by Alessandro Sarri, Saretto Cincinelli and Cristiana Collu, Italy.
Backlit studio show
, Tightrope performance, Nottingham
Hatch: Across
, Tightrope Performance, Nottingham Galleria Neoncampobase, Bologna
2009
Trace
, Château de Sacy, Sacy-le-Petit
STREET FEST 09
, Video Screening, Shoreditch, London
20sqm
, lagari in Neukolin, Berlin. Showing Puddle Drawing film.
2008
PLATFORM00000008
, Performance, Star and Shadow Cinema, Newcastle
Carbon Drawing
, Gymnasium Gallery Open 2008
Separations
, Spacia Arts Group Show, Leeds
2007
Little Jewel Cinema Programme
showed
Scritch
for one week
2006-2007
Little Jewel Cinema Programme
, Waygood Gallery, Newcastle
2006
International Flip Book Festival
Reg Vardy Gallery, Sunderland. Touring to New York, Vancouver and Philadelphia.
The Body Navigation Festival
, performance festival that took place on Elagin Island, St. Petersburg
ZOO
, Nolias Gallery - group drawing exhibition, Old Kent Road, London
2005
PLATFORM05
, Workplace Gallery, Gateshead
Point of Departure
, MA Fine Art Degree Show, Sunderland
MAFA@SUN*MMV
, NISSAN Showroom, Washington, Sunderland
Outwith
, MA Fine Art group show, Customs House, South Shields
2004
Degree Show, Norwich School of Art & Design, Norwich
Inside/Out
, The Thread Gallery, Cambridge
2003
Norwich Fringe Festival
Selected Commissions and Projects
2010
Commissioned artist for Sideshow Commissions with group
The Heuristic Laboratory
Creative Partnerships Artist – Edna G Olds Primary School, Nottingham
2009
Invitations d'artistes
, Sacy le Petit - working with adults in and around Sacy-le-Petit
Selected Residencies
2009–2010
AA2A Nottingham Trent University
2009
Château de Sacy, Sacy-le-Petit
Selected Publications
2010
Sideshow Commissions
, part of
The Heuristics Laboratory
- work mentioned in foreword by Oliver Basciano, Nottingham.
2009
Younger Than Jesus
, New Museum, New York, PHAIDON - Artist directory; census of the generations of artists born around 1980. Work included.
Gallery Experience
2012
Research Intern, Bill Walton Collection, Fleisher Ollman Gallery, Philadelphia
2011
Volunteering in the operations of the gallery, specifically in installing artworks and editing AV documentation. Temple Gallery, Philadelphia
2010
Researcher of exhibitions, Castle & Elephant Gallery, Coventry Ruth Scott is a member of
Grizzly Grizzly Gallery
, a Philadelphia project space devoted to emerging and under-represented artists.
Awards
2009
Arts Council Award British Council Award - transportation grant
2006
Arts Council Funding to purchase equipment for
The Body Navigation Festival
performance in St. Petersburg.
Education
2006-2007
Goldsmiths College; The University of London: PGCE - Art & Design
2004-2005
The University of Sunderland: MA Fine Art - Distinction
2003
Academie Beeldende Kunsten Den Haag, NL (Socrates Exchange)
2001-2004
Norwich School of Art & Design: BA Hons Fine Art (sculpture) - 2:1