Sans façon
En passant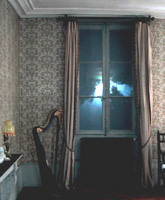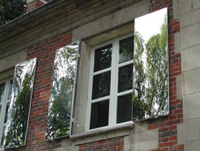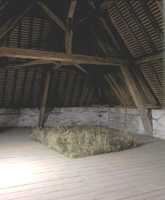 Sans façon - Commentary
Times Literary Supplement, 30 August 2002
On my first morning in France I looked out of my bedroom window and saw a large board lying in the middle of the lawn. I soon discovered that this was part of the work done by two artists-in-residence, who had been living in the house for the month of July. Charles Blanc from France and Tristan Surtees from Scotland had met at Glasgow College of Art, and decided to work together under the title of Sans Façon, or "no frills". What they liked about Sacy, they told a local newspaper, was that they could work without restraint. They had received inspiration from the house, the garden and the personality of Hermine Williams. It was a powerful location, with a depth of history. What they aimed to do was make an installation by setting an object in relation to a place.
In response to these challenges, Sans Façon had decided to attach plexiglass mirrors to the shutters on one side of the house, as a way of reflecting the deceptive appearance of a château which had once been a farm. "It's a game of reciprocity", explained Blanc. "The aim is to show what may not a first be visible." He added: "Visitors don't need any artistic knowledge to appreciate our work." They had provided the newspaper with a photomontage of what the mirror-shutters would look like, with strips of sky and trees scanned on to them, but, as it turned out, the mirrors were too difficult to arrange, so the plan had to be abandoned. The pair now asked if they could drill a hole in one of the shutters, to see if it would make a camera obscura inside. My wife rejected this idea - luckily, because when they tried it with a black-out board, it didn't work.
Their principal effort had consisted of cutting, on the bias, a large piece, two-and-a-half metres square, out of the floor of their attic studio and placing it in a shallow indentation on the lawn. The turf they removed from the lawn was set in a square they had prepared in a field, while the long grass from the field was transferred to the hole in the studio floor, which they shored up from beneath with heavy-duty plastic bags. This "work" was supposed to encourage us to look again at the familiar world around us, to call into question the accepted values and textures of wood and grass. No doubt the word "ludic" would be used to excuse the damage.
My wife didn't mind my philistine apoplexy. If the piece got up my nose, it couldn't be all bad. All her life she had been an agent for chaos and change - or conflict and resolution, as one should say. She is more in tune with modern art than I am; so long as there is something lively going on, she isn't bothered. What had annoyed her far more than holes in her property was the fact that they had taken down the trapeze, installed in the attic by the famous tight-rope walker Philippe Petit.
The boards warped in the rain, the lawn turned lumpy in the field, the indoor grass died. The phrase "site-specific" is one of those art-funding concepts that seeks to get value for money from its recipients. It produces a need for "installation", a work which always reminds me of a gent's toilet, with a white-coated arts administrator sitting in a chair, handing out towels and change for the cubicles. (Audience participation is always desirable.) There are plaster cows all over London at the moment (greening, etc) testifying to the heavy curatorial/conceptual hand. The festivalization of art is not unlike a service industry, but a more creative form of it is Paris-Plage, an instant beach resort which the car-hating Mayor of Paris, Bertrand Delanoë, has caused to take the place of the Right Bank expressway, complete with sand, palm trees, beach huts and deck chairs.
Sans façon had gone south on holiday, but they were calling in at Sacy in a few days' time to check the work and spend the night before continuing on to the UK in the morning. I decided to "interview" them. Gleefully, I prepared my ambush. I had the advantage of age, location and surprise. When we sat down facing each other across a table in the garden, the pair had no reason to suppose this was going to be anything other than a friendly chat. After all, whose side was I on? My smile may have looked false, but they didn't know what my real smile looked like. Inwardly, I was afraid, because I knew I was about to insult these boys and I didn't know how they would react. I'd been lying awake planning to slap them, but I realized it could just as easily be me who got slapped. The wind was taken out of my cheeks by the appearance of two exhausted youths without a pretentious bone in their bodies.
I started off shadow-boxing with a few equivocal questions. Had they felt rushed with only a month to come up with something? Not really. Had they felt any qualms about cutting a hole in the floor? No, it wasn't an old floor, or a particularly new one. Who had thought of cutting the hole? Easy, they'd worked it out together. Smiling pleasantly, I asked if they had found out how much it would cost to repair - or would they get another grant for that? They were going to do it themselves after the show, they said. That had always been part of the deal. Taken aback by this, I started hitting below the belt. Did they believe in the concept of poor art, or was it all the same? Were people supposed to admire the work, or was it primarily didactic? "Ludic", said Blanc. Apart form the damage, was their work any different from bringing home a piece of driftwood? No, not if it was done deliberately. Was it part of the joke that they'd been able to convince someone to let them cut up her house? Horrors at the thought! My last questions sought their connivance. Wasn't their work rather conventional? "Yes", said Blanc. "But that's all right because we're young." There was no answer to that.
The boys went off to re-hang the trapeze and I heard from someone that they wanted to leave before dinner, they were so upset. I went to see them, and said I was sorry. I was prejudiced. I was over-protective. I didn't like conceptual art because it was about ideas, while art was about feeling. I'd been riled because there were two of them: art wasn't a committee. We made up and they stayed to dinner. Next morning, I waved good bye, only slightly hypocritically, as they set off in their little car across the flat Picardie landscape, en route for Scotland.
Sans façon
Sans façon
are Charles Blanc and Tristan Surtees. E-mail
sansfacon_@hotmail.com
On-going Projects
2003
Billboards
, Glasgow, series of installations on commercial billboards
Weeds
, Glasgow, series of installations about unwanted urban vegetation
2002-2003
Viewing Platform
, for Velator wetland, Devon. Public art commission
The walled garden
, Gorbals, Glasgow. Public art commission Millennium Award, Royal institute of Architects in Scotland, research and design of an audio library recording the hidden spaces of Glasgow City centre
Exhibitions
2002
Private view
, solo exhibition, Dun Laoghaire, Ireland
En passant
, Sacy-le-Petit, France
Traces
, group exhibition, RK Burt, London
2001
CATS
, Dundee Contemporary Arts, group exhibition
Stirring the City
, group exhibition, The Lighthouse, Glasgow
2000
Royal Scottish Academy, group exhibition, Edinburgh
1999
Clear @ Home
, group exhibition, Glasgow
Publications
2002
En passant
, exhibition catalogue Sacy-le-Petit, France
2001
Views of the West Coast of Scotland
, produced by Book Lab™, commissioned by Cove Park
Sans façon
, self published
2000
Desire line
, published by Glasgow School of Art, group publication
1999
STARTS
, published by Glasgow School of Art, group publication
Residencies
2002
Sacy-le-Petit, Picardie, France
2001-2002
Dundee Contemporary Arts, Creative and Technical Skills Training Programme
2001
Cove Park, Outside the Box, Scotland
Commissions
2001
Stirring The City
, curate and design exhibition, launching of the Gorbals Artworks Programme, Lighthouse, Glasgow
2000
Zones
, student programme for Glasgow School of Art, 3rd year Environmental Art
Samples
, recording of the Queen Elizabeth Square Estate before demolition, Glasgow
Charles Blanc
MArch, Advanced Architectural Design, Strathclyde University, Glasgow, 1999 DPLG, Ecole d'Architecture de St Etienne, 1998
Tristan Surtees
BA Hons, Glasgow School of Art, 2000 HND, Leeds College of Art and Design, 1997