Sara Trillo
Touche du bois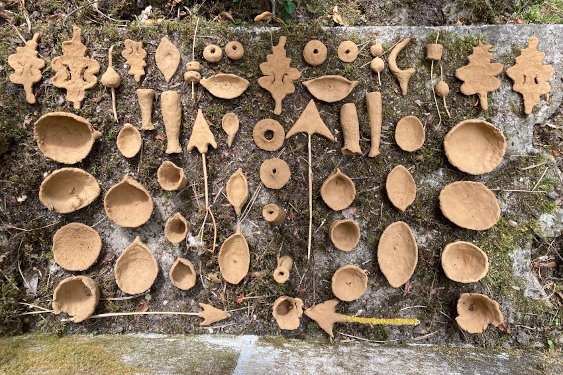 Sara Trillo's exhibition 'Touche du Bois' evolved from a two-part residency undertaken between the summers of 2020 and 2021, when the artist spent four weeks at the Château de Sacy meditatively investigating the local flora and fauna. Reflecting on the history of the land, which once was a focal area for pagan and animist rituals and then became a Christian site of pilgrimage, Trillo is fascinated by the way reverent nature rituals transmuted into superstition through the coopting of sacred space and narrative.
Referencing 'The Golden Bough' (1890) by James George Frazer, a study of the similarities amongst magical and religious belief globally, Trillo practices her own version of 'sympathetic magic', by using the intrinsic qualities of her material to activate a deep power. Trillo's work is site-specific and intimate. It has developed from listening to local bird calls, scrutinising the sky for subtle weather shifts and the impact of this on the surrounding vegetation, gathering decaying flower heads and fallen fruit, crushing, cracking, simmering her findings to alchemise into inks and pigments. For Sara Trillo the gardens of Sacy reflect the history of the surrounding landscapes, drawing connections with the Roman remains at Champlieu and the Forêt d'Halatte. The magic of this is intensified by the fact that Sacy is an oasis of biodiversity surrounded by miles of monofarmed land.
Trillo uses walnuts for dye and texture, clay dug from the stump of a pine tree to create hand made tools which distribute cherry stones and the petals of lilies and roses to dye an oversized apron and glove. She honours an ephemeral matrilineal history of craft and handiwork whilst referencing specific stories such as Jean Cocteau's film 'La Belle et La Bête' which takes the metaphor of the glove to speak of protection and transformation. Here Trillo's glove reflects the distance between humanity and the natural world; a longing to hold and collect, combined with a fear of our role within nature.
Unlike a herbarium where plants are preserved and pressed for study, Trillo does not seek to preserve but rather to activate the essence of each specimen using them to anoint and imbue with ritual. She creates imagined votives and artefacts which are missing from the vitrines full of weaponry and metal objects in museums. Hers are the kind of tools that tenderly cultivate the land and once used are returned to the soil to be repurposed and processed by earth worms and root networks.
For 'Touche du Bois' this new body of works are exhibited in a bergerie (sheep house) at Château de Sacy, where the high stone structure evokes the feeling of an ancient chapel, the manger holding the space of an altar, the creamy white walls speaking of ritual cleansing. The title of the exhibition plays on ideas of superstition, whilst nodding to the gardeners who maintain the land, the hands that so lovingly keep the balance of these small ecosystems but are never mentioned in the historical accounts of great estates.
---
More images from the Residency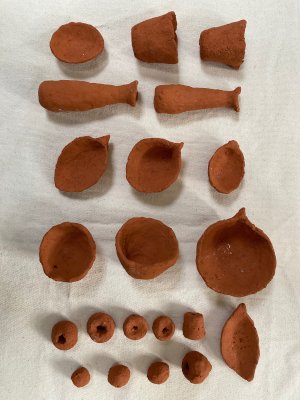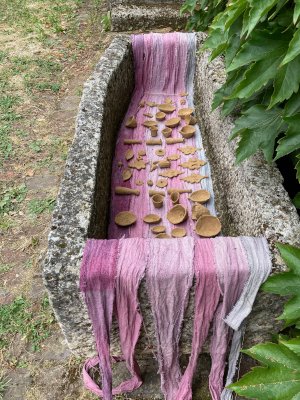 ---
Previous Work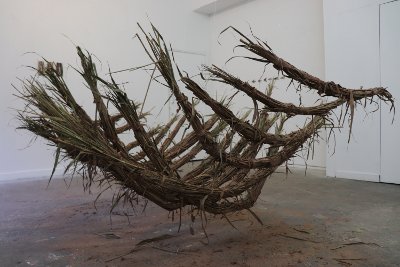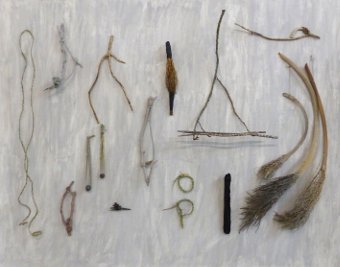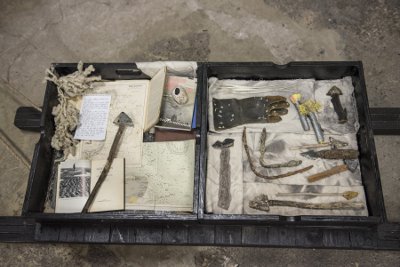 ---
Sara Trillo
Web:
saratrillo.co.uk
Exhibitions/Projects (recent)
2020
Open Water
, curated by Theo Shields, Oriel Croesor, Wales
The Search for Shuart
, walk/performance, commissioned by Crate, Margate
Island
, edition for Swapart Editions/Skelf, with show at Creekside, Deptford
2019
PEATS funded residency at Cyprus College of Art, Lemba, Cyprus
Fire_Sand_Stone
, pop up exhibition and publication launch, Well Projects, Margate
Bolster Playground
, Ugly Duck, Tanner Street, London
BABE
, Arnolfini, Bristol
Talkie-Walkie Walkie-Talkie
, funded collaboration with Frûctose, Dunkerque, France
Summer Camp
, funded residency at Eastside Projects, Birmingham
The Rushbearing Ceremony
, funded commission for art in Romney Marsh, Newchurch
Bring up the Boat!
, excavation/performance commission funded by MargateNow Festival
Anna Perach and Sara Trillo
, for Limbo Plus One, Margate
Pets
, TOMA Project Space, Southend-on Sea
2018
At the Violet Hour
, Nayland Rock Hotel, Margate (collaborative installation with Chloe Ashley), curated by Chiara Williams and Shaun Stamp
Nothing to Nothing
, Limbo, Margate, curated by Claire Orme and Sophie Dixon
Why do you never speak?
, Horsebridge, Whitstable, curated by Mirka Kotulicova
The Ash Archive
, touring throughout Kent
Knots and Lists
, TOMA Project Space, Southend & Arcade, Cardiff
The Deer Line
, with Athelstan Sound, Resort Studios, Margate
Pass It On
, Crate, Margate
The Tide is Coming Towards Us
, curated by RamosLübbert, Arnis, Germany
The Ghost Tide
, curated by Monika Bobinska and Sarah Sparkes, Thames Side Studios Gallery, London
Hell, It's Us
, Sara Trillo and Gav Toye, Limbo, Margate
Local Anywhere
, Sluice HQ, London
2017
Various collaborative work with Open School East
Awards/Commissions/Residencies (recent)
2020-2021
Residency, Château de Sacy, Sacy-le-Petit, France
2018
Artists Newsletter bursary funding for new skills (glass blowing/flint knapping) Arnis Residency selected by Cristina Ramos and Christian Lübbert, Arnis, Germany PEATS funded residency at Cyprus College of Art, Lemba, Paphos, Cyprus, researching foreshore archaeology
2017
PEATS funded residency in Sultanhisar, Turkey, studying ebru (paper marbling)
2016
Localism and Legacy
, ACE funded archive commission for the Fleur de Lys Museum, Faversham
On Margate Sands
, Turner Contemporary/Tate Britain Digital Archives project
Cardboard Canterbury
, homelessness commission for The Beaney, Canterbury in conjunction with the Homeless Film Festival, Manchester
2015
The Tea Trolley Laboratory
(joint project with Amanda Thesiger), initial research commission from Ideas Test, working with diverse venues since October 2015
The Beaney Broadsheet
, library and museum collections commission/residency for The Beaney House of Art and Knowledge, Canterbury
Education
2017
Associate, Open School East
1984-87
BA (Hons), Norwich School of Art
1983-84
Foundation Course, Canterbury School of Art