Sharon Haward
En Place
'The penalty of freedom is the loss of certainty'
The ideal artist's residency is a gift of time, space and freedom. The artist leaves the distractions of her usual life and swaps them for something exotic and unknown, and, in doing so, often experiences a momentary somersault of emotions from ecstasy to fear and back again. It is somewhere within this slippage – this loss of certainty between known and unknown – that fresh ideas emerge.
The artist Sharon Haward is familiar with this process, recognising that a productive residency is about openness and trust: being open to what you find and trusting yourself to work with what is there.
Haward approaches each residency with the relaxed attitude of the flâneur, the emotional intelligence of the psychogeographer and the quick-witted curiosity of the artist. With no time to spare she interrogates her environment from every angle: looking, walking, filming, cycling, drawing, photographing, building, making, interviewing and trying out everything from wooden sculptures and material draperies to the temporary ad-hoc creation of a studio-cum-gallery.
Midway through the month-long residency Haward converted an old outbuilding (la petite maison) into a useable space 'or a type of gesamtkunstwerk'. "Once I decided to use 'the little house' things began to fall into place. I could see the space as a place for encounters between different pieces of work," she said.
"I cleared everything out of the space apart from two rusty corrugated-iron sheets. A few days later I decided to cover one with a rich red satiny fabric. Their corrugations made a visual link to drapery."
Haward has always been interested in the sensory and architectural nature of our surroundings. Such works include Experiments in Town Planning (2008), featuring a scaled-down cardboard city and its spooky projected shadows, and the experimental free-flowing Peek (2016), an open-air installation of a 20-metre curtain, set free from a normal passive domestic setting, which lets rip both physically and metaphorically, whipped fiercely by seaside winds.
At Sacy, immersed as it is in the culture of Northern France, Flaubert is never far away. And Michèle Roberts, whose novel Daughters in the House with its description of domestic objects, also reminds Haward of the aspirational and intergenerational history of Château de Sacy.
Haward's writing is now as much a part of her practice as the enigmatic installations she creates:
'a chance to live
in cold splendour
Château de Sacy
is tactile, sensory
a visual feast
recalling Madame Bovary
and her social aspirations'
Ruthlessly edited, these short vistas and poetic rhythms with their pertinent allusion to the joys, frustrations and discoveries of each day at Sacy are a testament to Haward's honesty, and the happy serendipity of allowing freedom and uncertainty to exist side by side.
---
Previous Work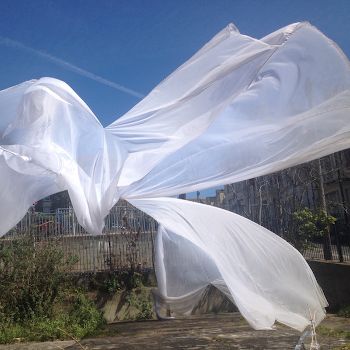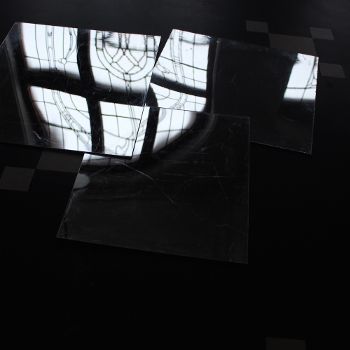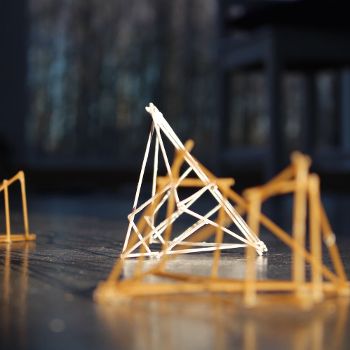 Sharon Haward
Web:
sharonhaward.com
Commissioned and Funded Projects
2016
Peek
, The Space, St. Leonards-on-Sea
2015
Space Interrupted
, Limbo, Margate + Fort Brockhurst, Gosport
2014
Making Space
, Fabrica, Brighton
Inter-ruption
, Curious Project Space, Eastbourne
2011
Facade
, projections and installations, Dover + St. Leonards-on-Sea
Watchtower
, site-specific periscope, Romney Marsh Visitor Centre
2010
Critical Mess
, group performance, Bexhill-on-Sea
2009
Circumnavigation
, Redoubt Fortress, Eastbourne Festival
2008
Signs of Life (Part 2)
, site-specific installation, London
Signs of Life (Part 1)
, site-specific installation, Liverpool Biennial
Ideal Homes
, workshops and event architecture, '08 Ore Valley
Ghost Town
, site-specific installation with sound, Ore Valley
2005/2006
Four Corners
, Ore Valley architecture week
Exhibitions and Screenings
2016
East Sussex Open, Towner, Eastbourne ArtGene, Barrow-in-Furness
Curiouser#8
, Mons
2015
Observer Building, Hastings
2014
Whitstable Biennial Satellite Access Space, Sheffield
Telling Stories 2
, Kaleidoscope Gallery, Sevenoaks
2013
Parade
, screening, Margate
Pneu
, group exhibition, ESPS, St. Leonards-on-Sea
Breakthrough
, group exhibition, Arts Forum, St. Leonards-on-Sea Balaclava online gallery
2012
Feedback
, University of Brighton
2011
Instants Vidéo Poétiques
, screening, Paris; agentesse
2010
East Sussex Open, Towner, Eastbourne
An Experiment in Town planning
, Bargate Monument Gallery, Southampton
HopSkip
, Hackney Wick
2008
Anonymous Drawing
, Berlin
Shadowlands
, Arts Forum, Hastings
Open Film Night
, Electric Palace Cinema, Hastings Galleria Espacio Kubiko Internet gallery, Madrid
2006
3 Installations
, 3 artists, site-specific work, Ore Valley
Headspace
, site-specific installation, St. Mary-in-the-Castle, Hastings Architecture Week, Ore Valley (+ 2004, 2005) Karavan, Reigate
2005
Stratton Gallery, Hastings Soco Gallery, Hastings (2004, 2005, 2006)
2004
Open Studio, Coastal Currents Arts Festival Jelly Legg'd Chicken, Reading Cranbrook Library Gallery, Cranbrook Ramsgate Library Gallery
2003
Art in Romney Marsh Sassoon Gallery, Folkestone Phoenix Gallery, Brighton
2002
Beaux Arts, London Artsway, Sway Sussex Open, Brighton
Curated Projects
2014
Space Interrupted
, ESPS, St. Leonards-on-Sea
The Mirrored Edge
, video screening, ESPS, St. Leonards-on-Sea
2013
Replay
, video installations, Underground, Hastings
2012
Out of the Frame
, BPF, Underground, Hastings
End of the World
, 5 digital artists, Underground, Hastings
2011
watching you…watching me…watching you
, 5 artists, Underground, Hastings
Look Out
, group performance, Folkestone Triennial Fringe
2010
Façade
, 6 artists, Art in Public Spaces, Dover & St. Leonards-on-Sea
Replay
, 6 artists, interventions & projections, Hastings town centre
2009
Instruction No. 1
, curator and artist, Staircase Space
Residencies
2017
Château de Sacy, Sacy-le-Petit, France
2015
Atelier Austmarka, Norway
2014
Eastbourne College, Eastbourne Making Space, Fabrica, Brighton
2011
Interface, Oudenaarde, Belgium
2009
Résider:Reside, Kent / Côte d'Opale Runway, The School Creative Centre, Rye
2008
Signs of Life, Liverpool Biennial
2007
The aSpace, Hastings College of Art & Technology
2005-2007
Four Corners, Ore Valley, Hastings
Public Art Projects
2008
Photographic installation, The Bridge Community Enterprise
2005
Window film installation, mortuary, Conquest Hospital
2004
Glass/digital image installation, operating suite, Conquest Hospital Digital image installation, operating suite, Conquest Hospital
Shortlisted
2013
Site Gallery, Sheffield
2012
House, Brighton
Publications
An Experiment in Town Planning at Bargate Gallery, Owen Hatherly, BD (Apr 2010) Ghost Town & socially engaged practice, Mailout (Dec/Jan 2008) Young Curator Scheme at De La Warr Pavilion, The Guardian (May 2007) Artists project Four Corners, a-n (Mar 2006)
Grants & Awards
Arts Council - Grants for the Arts 2004, 2005, 2007, 2009, 2015 Axis - featured artist of the week 2008 Other funding - Hastings Borough Council, Dover District Council, Interreg. 2007-2009 Sussex Open - Recommended 1998
Education
2010-12
M.A. Digital Media, Brighton University
1985-86
PGCE, Brighton University
1979-84
B.A. Hons. Fine Art, Newcastle University