Simon Whetham
Translation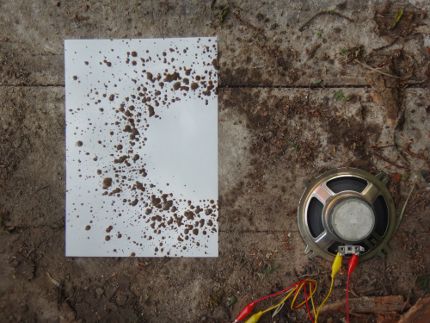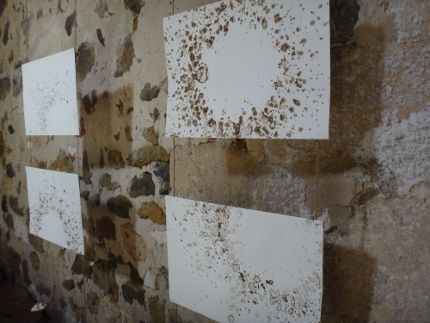 Translation
Tic, bing, scritch, ffhhhhth.
I first met Simon Whetham three years ago at an exhibition at Tsukuba in Japan. He was in a park, busy suspending from a tree old discarded drawers and pieces of glass which moved in the wind, sometimes emitting sounds. At other times there was too much wind and the collision would produce nothing. This was what he wanted, he said, "without really wanting it." Toc, tic, bing, scritch, ffhhhhth, shhhh. He pointed out that he was neither a musician nor a sculptor.
He reappeared the other day as the residence artist at the Château de Sacy, quite close to where I live. He called and I went for a visit. While there, I watched him tracing the furrows of a Picardy field with a stick, to which he had attached a microphone. In a small outhouse of the château he showed me an arrangement of dead branches accompanied by the sound they once made in the wild. He had attached the microphone to a branch, as though he wanted to hear their matter speak, producing river-like sounds. Gloublscritch, gloublscritch, gloubloubh. I also watched him putting a bit of liquid mud from a field onto an old loudspeaker to observe how, when working, it splattered a sheet of paper beneath it. Did he say it was the field that paints? I can't remember. Later, during tea, he took the opportunity to fix a mike to my fork. I did try, all the same, to eat my walnut quatre quart as daintily as possible.
Perhaps Simon wants to unite a place with the sound it produces. He employs a few stratagems but, deep down, he would prefer it if there were as few of them as possible. He presents the whole thing as the outcome of chance. He would like to come out with something he hadn't anticipated. A mud painting. A trace. He would like to be the trigger for something, just as we would all like to be triggers for something.
(Translation)
---
One definition of 'translation' is 'to change to another form or appearance'. The three projects I have undertaken during the residency could be seen as following this idea.
During my residency at the Château de Sacy I have taken the opportunity to explore a number of ideas for improvisation with nature and the physical traces of sound.
With 'The Impossible Tree' collected and reconstructed fallen branches now appear as a living tree, and the movement caused by the wind can now be heard.
'Elemental Paintings' are also caused by the energy of the wind, translated as visible marks in soil on paper.
'Record of the Land': from a certain angle the furrows of the ploughed field nearby look like those of a vinyl record. The act of tracing the furrows creates an audible sound that is clearly the result of movement and friction.
'Sound Composition for collaborative project': an additional work created during the residency is a sound piece, composed from sound recordings made in Sacy-le-Petit around a specific concept. I am unable to explain the concept as it is part of a collaboration with Leo Okagawa, a Japanese composer, which he will respond to without the explanation of the reasons behind the work. The heart of this project is translation and interpretation.
---
Previous Work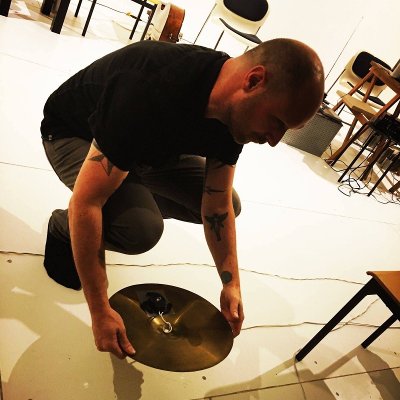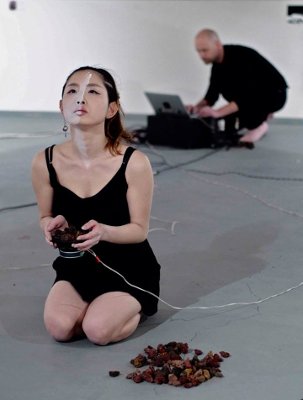 Simon Whetham
Born 1970, UK. Web:
simonwhetham.co.uk
Selected Exhibitions
2018
Translation
, residency, Château de Sacy, Oise, France.
2017
Trace of Lime
, multimedia installation, Tsonami Festival, CasaPlan, Valparaíso, Chile.
Trace of Mokpo Harbour
, ink drawing installation with sound, Jeonnam Ink Art Pre-Biennale.
Everyday Emanations (Dead End)
, sound and light installation, Nakanojo Biennale, Nakanojo, Japan.
Trace of the Storm
and
What the Earshells hear
, group exhibition, Openarts Project, Openarts Space MERGE?, Busan, South Korea.
Everyday Emanations
, solo exhibition, S.Y.P., Tokyo, Japan.
Connecting the Broken Pieces
, solo exhibition, Pintu Miring Artspace, Yogyakarta, Indonesia.
2016
Namwon Sound Project
, sound and light installation using found sound and objects, Namwon, South Korea.
Father Sky Mother Earth
, 'Vestiges of Discomposure' installation for Tsukuba Art Center, Fureai-no-sato, Japan.
Fureai
, sound installation for open air art festival, Abiko International Arts Project, Fusa, Japan.
Ropewalkers
, 'Trace Evidence' headphone sound installation for OSR Projects and Dawe's Twineworks, West Coker, UK (permanent installation).
The Memory of the Storm
, installation for Art in Nature, Open Arts Project 2016, Busan, South Korea.
Liberation of Water II
, 'The Movement of Dead Air', invited artist, Iksan Creation Center, South Korea.
Cros.sing
, 'Traces of Water, Trace of Life' visualisations of sound artworks for Yatoo International Project, Gongju, South Korea.
Watering the Piano
, site-specific installation, Arc Residency Open Day, Romainmôtier, Switzerland.
Sweep
, installation reworked for Geräuschwelten Festival 2016, Münster, Germany.
Ómur
, sound installation in working lighthouse, Fresh Winds 2016, Garður, Iceland.
2015
Let the East and the West
, 'Between the Fields' sound piece for exhibition at Art District_p, Busan, South Korea.
In the Ancient City
, 'Four Dimensional Sound Painting' installation, Iksan Art Center, South Korea.
Sousei
, 'Return' sound installation, Tsukuba Art Center, Fureai-no-sato, Japan.
Cross Reacting Confession
, 'Portrait Mouillé' video and sound installation in collaboration with Shin Mijung, Iksan Creation Center, South Korea.
The Windswept Plain
, 'Sweep' sound installation, Jeollabukdo Provincial Council Hall, Jeonju, South Korea.
Sonic Activity: Prague
, Sound installation from workshop, Galerie Skolska 28, Prague, Czech Republic.
2014
Creative Tomorrow
, 'Found Sound Materials' Installation, City Hall, Seoul, South Korea.
Shrinking World, Nomadic Utopians
, 'Found Sound Materials' Installation, Artist Residency TEMI, Daejeon, South Korea.
2013
MUUA Lab/C3P
, Residential laboratory project open to the public in a gallery space, University Museum, Universidad de Antioquia, Medellín, Colombia.
2012
In Memoriam
, group exhibition, Jardin PCdV, Valparaiso, Chile.
Non-place/Place
, group exhibition, Judson Church, New York, USA.
Active Crossover: Seedpod
, sound installation, Punctum/ICU, Castlemaine, Australia (curator).
La Casa Está En Su Propío Parque
, residency group exhibition, Plazarte, Medellín, Colombia.
2011
Active Crossover 2011
, Touring sound exhibition. Host Galleries: South Hill Park, Bracknell; Wolstenholme Creative Space, Liverpool; Millspace, Leeds; Soundfjord, London, UK (curator).
Re/Flux – Sublimated Landscape
, group exhibition curated by Soundfjord, ICA, London.
2010
Parisonic
, installation, Le Jardin D'Alice, Paris, France.
Active Crossover II
, installation, Grey Area, Brighton, UK (curator).
2009
Active Crossover
, installation, Arnolfini, Bristol, UK (curator).
Lightyears
, installation to accompany painting by Kathryn Thomas, Paintworks, Bristol, UK.
Amazonas' – 7.1 surround sound
, installation, AES Audio for Games Conference, Royal Academy of Engineers, London.
2008
Co-LAB'08
, installation/group show, Polymer Factory, Tallinn, Estonia.
Amazonas
, installation and performance, Sightsonic 2008, York, UK.
Amazonas
, installation, Hat Factory Arts Centre, Luton, UK.
2007
The Ocean Project
, Barbican Theatre Gallery, Plymouth.
In The Water
, Artists Harbour Gallery, Southampton, UK.
A Dark Light
, City Hall, Reykjavik, Islande.
2006
TwoNotTen Digital Arts Festival
, Bargate Gallery, Southampton, UK.
Selected Discography
2016
Trace Evidence
(LP), Traceable Echoes
Against Nature
(CD), Crónica
2015
Contrivance
(CD), 1000füssler
What Matters is that it Matters
(CD), Baskaru
a need for material possession
(LP), Silentes
Elephant in the Salon
with Canned Fit (CD), Twice Removed Records
2014
From the Mouths of Clay
(Cassette), Helen Scarsdale Agency
2013
Hydrostatic
(CD), Aufabwegen
El Parque Esta Situado En Su Propia Casa
(DL), LINE
Never So Alone
(CD), Crónica
2011
Mic.Madeira
with Hugo Olim (DVD), Crónica
Meditations on Light
with friends (2 CD), Monochrome Vision
Mall Muzak
(CD), Unfathomless
Prayers Unheard
(CD), Dragon's Eye Recordings
2010
The Clearing
with Rebecca Joy Sharp (CD), Gruenrekorder
2009
Quiet Please
(CD), Lens Records
Fractures
(CD), Entr'acte
2008
Understory
(DL), Trente Oiseaux
Education
1996
BA(Hons) Industrial Design, University of Wales Institute Cardiff, Cardiff
1994
HND Product Design, Nene College, Northampton