Art in Sacy
Since 1996 we have hosted not only exhibitions by British and local French artists, but also artist residencies funded by local, national and U.K. organisations, including the Conseil Général de l'Oise, the Conseil Régional de Picardie/Hauts de France, the Direction Régionale des Affaires Culturelles de Picardie/Hauts de France, the British Council, Essex County Council, Writtle College and the village of Sacy-le-Petit. The artistic activities of the château are managed by the non-profit organisation Ateliers d'artistes de Sacy.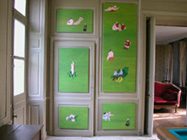 Following her inheritance of the château in 1994 by the performance artist and producer Hermine Demoriane, the first exhibition "London Exotics" took place at Sacy in 1996. This group exhibition featured a dozen British artists, most of whom came in person to hang their pictures and to support the venture.
Our summer residency programme began in 1999 with three week-long stays by Australian artist and animator Antoinette Starkiewicz, American performance artist Nina Sobell, and London-based Japanese installation artist Kumiko Shimizu.
In 2000 we expanded our activities by welcoming a local Picardie artist as part of a programme we have devised whereby each year the association gives selected artists - one French, one British - a grant, living/working space, an exhibition and a catalogue.
Amanda J. Couch and Gilles Bourlet spent one month each here that year. Their work was exhibited for three weeks at the end of the summer and a joint catalogue was issued.
Residencies have taken place each summer since then, and the exhibitions and catalogues have remained a regular yearly feature. Our resident artists also get the opportunity to meet the local population.
As well as its association with art, the château regularly hosts events such as performances, concerts and dinners. Activities at the château have been widely reported in the local press and articles have appeared in publications such as the Daily Telegraph, Art News, The Times Literary Supplement, The Idler and Vogue. The French television channel F3 has also covered our activities. Locally, the Comité du Tourisme de l'Oise helps to spread the word of the work we do.