Ruth Scott
Several Collaborations
Details of film segments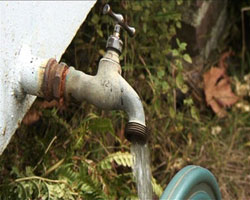 Watering the garden
On most days the garden needs to be watered to ensure that the vegetables can grow and then be eaten. This small piece shows the filling up of the watering can.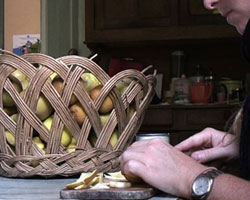 Cutting apples
This video depicts the sound and rhythm of the apples being cut on a wooden board; they were being prepared to make an apple cake, which was later eaten.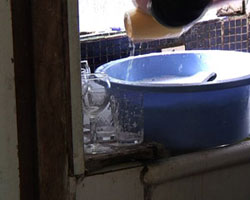 Washing dishes
A mixture of plates, glasses and cutlery undergo their daily wash so that they are clean for the next meal. The sound and action are depicted in this short video.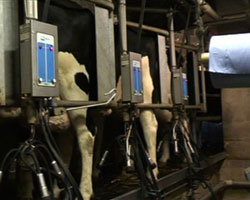 Milking at the dairy farm
At 6pm it is time for the WWOOFers to leave on their bicycles for the farm to collect the fresh milk. The sounds of the space where the cows have been milked are recorded.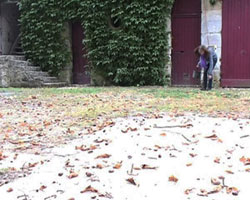 Collecting horse chestnuts
The chestnuts keep falling from the tree so they constantly need to be picked up and taken away. The video captures the sounds of the chestnuts falling into a tin bucket.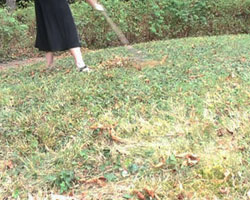 Raking leaves
During autumn the leaves build up on the ground and then later raked into piles so that they will eventually decompose. This captures the sound of the leaves being raked.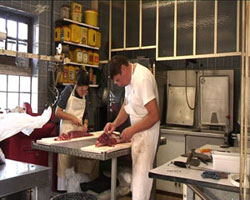 Cutting meat
Ruth Scott works alongside the local butchers of Sacy-le-Petit, learning the skill of meat cutting and preparation. The video depicts the processes and tools that the butcher uses as part of his profession to prepare the meat for cooking and then consumption.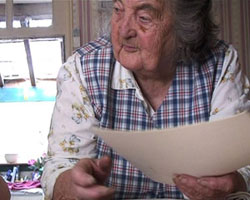 Talking
This video shows the conversation between a seamstress and the artist. They talk on a range of topics (including the death of her sister).
As the Château's contribution to the Invitation d'artistes event, and working in conjunction with the inhabitants of Sacy-le-Petit, this project sought to explore how the body can be mapped out, by tracing its movements and plotting its absence. This mark making occurred through a series of performances between September 26th and October 4th 2009, Ruth Scott working with different people throughout the week, for example the local butcher and the local seamstress, to investigate the tools and processes they use in their professions / activities in the village of Sacy-le-Petit. She also worked with the WWOOFers, exploring the actions and sounds of their work in the garden. Her current art practice explores the act of drawing through materials such as charcoal, graphite and biro to record her presence in a space. This is then presented through performance and sound. Information on Ruth Scott's 2009 residency.